Moving was once considered mentally and physically challenging. Nowadays, when Teddy Moving and Storage NYC is here to assist you, relocation is like a walk in a park. You simply need to contact us and get our free moving quote and a team of the finest Long Island City movers will plan and execute your move, regardless of whether it is a home or an office that you are planning to relocate, and no matter how far you are going. Additionally, we can help you with packing, moving fine arts, handling furniture, and more.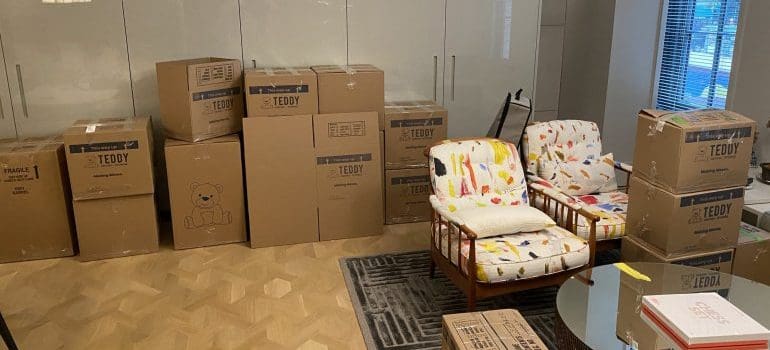 Relocate with the help of the most highly-rated Long Island City movers
We are a team of dedicated and skilled professionals whose main goal is to provide high-quality relocation services. If you are looking for a moving company with experience, a high level of expertise, proper equipment and a variety of vehicles, Teddy Moving and Storage NYC is at your disposal. Do not miss this opportunity to move with one of the most proficient and devoted Long Island City moving companies on the market. Give us a call today.
Can't Bear to Throw it Away? Let Us Move it Today!
Choose from a variety of services specially designed to ensure a superior moving experience
Our goal is to provide every customer with a complete relocation service regardless of the situation. And because we understand that every customer has unique needs we have created a wide array of moving services designed to cover all our customers' needs. Take a look at the moving services our movers in Long Island City can provides:
We have teams of residential and commercial movers ready to assist you
Relocating your home or a business? At Teddy Moving and Storage NYC, you can find residential and commercial movers in Long Island City ready to assist you no matter how far you are relocating. We have teams specializing in household moves and teams that do commercial relocations. If you are moving your home, know that your move will be handled by our friendly and caring team of movers.
And if you are moving your business, our most experienced and well-coordinated team of commercial movers will be on the job ensuring that your business suffers as little downtime as possible. Our residential and commercial moving teams also include fine art movers just in case there are some delicate and valuable pieces of art that need to be handled.
Your small move can be easy – but only if you hire our local moving team from Long Island City
In layman's terms, the difficulty of one relocation is measured by the distance that needs to be crossed. Still, our Long Island City movers know that local relocation can be almost equally difficult as an interstate one. If you are moving locally, within Long Island City, we will assign our most trusted local professionals on the task. They know every corner of the area and will be able to conduct your local move smoothly regardless of how many items you want to move.
Relocate across large distances with the help of our experienced professionals at Teddy Moving and Storage
When it comes to long distance relocations, careful route planning, durable and well-maintained vehicles, and experienced movers are the most important factors on which your long distance move depends. That is why we pay special attention to those particular aspects of your move. And that has helped us to get to the status of one of the most reputable Long Island City moving companies. No matter whether you are moving within the state of New York or you are moving across the country, we have the means and knowledge to make this an enjoyable process.
You do not have to have a poor relocation experience just because you failed to book your Long Island City moving company on time
Even though every moving company likes to be notified about the move in advance, we know that isn't always possible. That is why we always have a team of professionals ready to jump into action as soon as you give us a call. There is no need to move with some shady or incompetent movers just because you didn't have an opportunity to schedule your move on time. Some of the best movers in Queens have your back. Take your time and choose among our local moving solutions:
With our help, the packing process will be as easy as pie
Everyone who ever moved knows that packing is the most physically and mentally demanding part of the process. If you are not sure whether you will manage to pack your belongings properly and on time, do not stress. We have a team of trained professionals whose task is to ease your relocation and provide your items with much-needed protection. We will utilize our vast knowledge and superior packing materials to ensure that. If you want to pack on your own after all, give us a call nevertheless. We will provide you with the finest moving boxes you can find on the market.
Ensure a royal moving experience by hiring Teddy GOLD™ services
If you are looking for a full moving service of the highest quality and you want to have our top professionals working on your move, ask for Teddy GOLD™ services. Suitable for all types of residential and commercial relocations, this service will ensure a truly royal relocation experience.
We can safeguard your items in our storage facility for as long as you need
If by any chance, you end up with some excess items after your move, know that your Long Island City movers can provide you with quality storage as well. Of course, our climate-controlled storage facility is not available only during relocations. You can also use it for other purposes.
Get top moving services at reasonable prices by hiring Teddy Moving and Storage
We know that in times of great economic challenges every dollar counts. That is why we trying to keep our Long Island City moving and storage services as affordable as possible. Of course, the quality of our services will not diminish because of that. If you want to check our rates, contact us through our webpage and get a free moving estimate or simply give us a call.
From now on, every relocation you organize will be enjoyable and stress-free
The days when you had to worry about your upcoming relocation are long gone. Today, with Teddy Moving and Storage NYC, a smooth and carefree experience is definite. To ensure the help of the most trusted Long Island City movers today, contact us. You will get a free quote and an opportunity to have an enjoyable and smooth transition no matter when or where you are planning to move.