NYC's most trusted movers.
For the best move, trust Teddy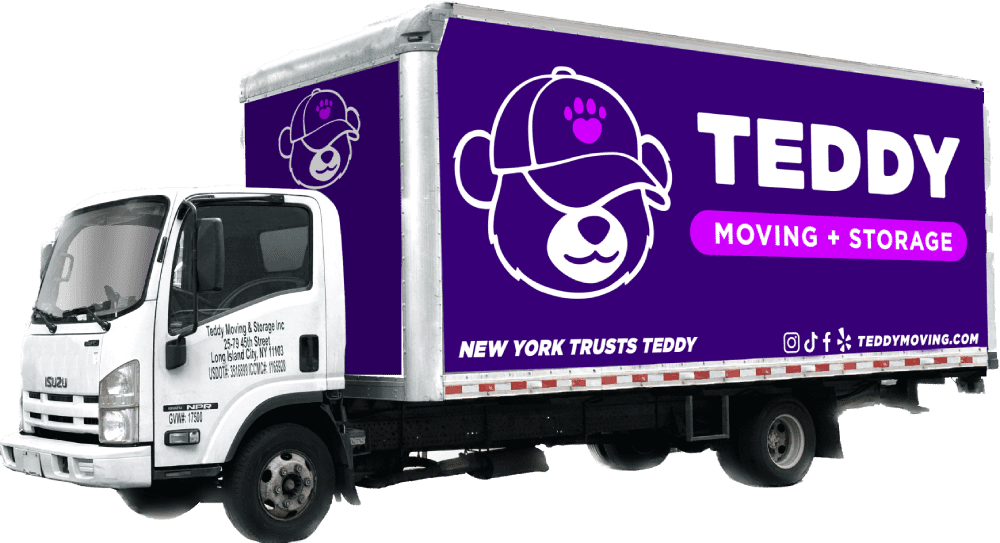 Just look for the
truck with the bear.
Teddy keeps you safe and secure
Local NYC Moves
Long distance moves
Commercial Moves
Storage Solutions
The Teddy difference.
Moving with brains and brawn
What sets Teddy Moving apart from other moving companies in NYC?
At Teddy Moving, we stand out with our unwavering commitment to top-level service. Our experienced team, attention to detail, and dedication to customer satisfaction make us a cut above the rest.
How do you ensure the safety of my belongings during the move?
We prioritize the safety of your items. Our professional movers use high-quality packing materials, secure loading techniques, and safe driving practices. We also offer insurance options for added peace of mind.
Can I expect a transparent pricing structure with no hidden fees?
Absolutely! Teddy Moving believes in honesty and transparency. Our free quotes are comprehensive, and we won't surprise you with hidden costs. What you see is what you pay.
What types of moves does Teddy Moving handle?
We specialize in local, long-distance, and commercial moves. Whether you're relocating within NYC, to another state, or transitioning your business, Teddy's got you covered.
How does Teddy Moving ensure efficiency during the moving process?
Our experienced team plans every move meticulously, optimizing routes and resources. We work efficiently without sacrificing quality, ensuring your move is swift and stress-free.
What about convenience? How does Teddy Moving make the process easier for customers?
We prioritize your convenience by offering a range of services, including packing and unpacking assistance, storage solutions, and flexible scheduling. We adapt to your needs to make the move as hassle-free as possible.
Is Teddy Moving licensed and insured?
Yes, Teddy Moving is fully licensed and insured. We comply with all regulations, providing you with peace of mind that your move is in the hands of a reputable and responsible moving company.
You can trust our free quote.
Just like New Yorkers, Teddy Movers are always up front and transparent. No hidden costs, just accurate estimates for your stress-free move." 🗽🚚💰
In town or out of town.
Teddy can do it all, and do it better.
Choose Teddy Moving for seamless local and long-distance moves. Our experienced team ensures hassle-free relocations, offering peace of mind whether you're staying in town or venturing beyond. 🏡🚚🌆
Teddy is NYC's best kept secret.
Efficiency, caring and convenience
Our efficient, attentive, and hassle-free approach sets us apart. We take pride in being your trusted partner for stress-free moving, and our movers are trained not only in logistics and moving technique, but in customer service, making us the right choice for your ultimate peace of mind. 🏙️🚚✨
Real client reviews
"Move was totally seamless."
Teddy's crews made a painful experience very pleasant. Very thankful to the guys and would highly recommend to anybody looking to make a move. Guys showed up on time, were incredibly courteous, friendly and professional. Never even had to lift a finger. Fair price with incredibly high quality service levels.
"Could not ask for a better experience."
Teddy M&S did a professional, efficient, and A+ job. They took care of our stuff like it was their own and were thorough and thoughtful during the entire process. Oh, and their price was incredible, too. Next time we move, there will be no hesitation. We're calling Teddy!
Great care and speed with items. I would recommend every single time. Nice people and very respectful.