While New York City is great for advancing your career and immersing in a dynamic everyday life, it doesn't suit everyone. Many New Yorkers are moving with families to New Jersey in search of quieter surroundings. There are many popular NJ cities for New Yorkers moving with families. Not disconnected from NYC, but with its own gravity, New Jersey offers an affordable opportunity for many young New Yorker families. From the cost of housing and monthly expenses to running away from the noise, it's one of the best places to move with kids. If you're planning to move with your family, make sure you hire professional assistance. After hiring movers NYC to NJ transition will be much less stressful, and your kids will love it. Good planning and organizing with professional teams of movers will ensure a successful and easy relocation.
Why are NJ cities popular for New Yorkers moving with families?
Everyone knows that Manhattan is maybe not the most representative in terms of NYC house affordability. However, it's striking that the price is double when you compare it to New Jersey. As raising kids requires a lot of attention and additional funds, NJ cities remain ever-popular for New Yorkers moving with families.
Additionally, you won't find downtown NJ cities stuck in a permanent traffic jam. While the cities host urban culture, you can't compare them to New York. You'll find everything to be much more approachable and many important spots within walking distance.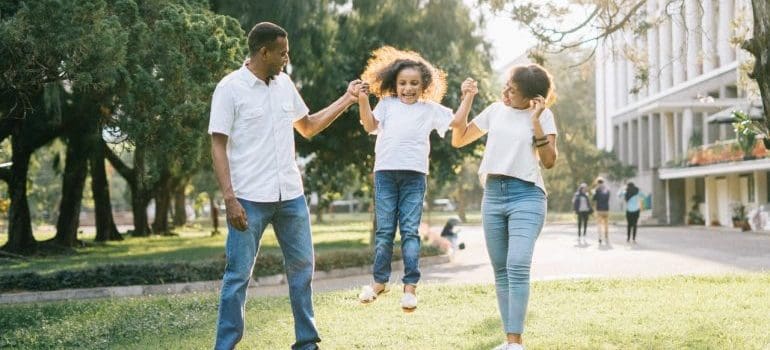 Many New Yorkers moving with families come to Hoboken
Some New Yorkers have already chosen to move to Hoboken. Many of its residents appreciate the small-town feel, while the city is teeming with culture and history. Even though it may seem like a smaller community, it's also known for having a rich nightlife scene.
If you want to move to Hoboken, one of the most popular NJ cities for New Yorkers moving with families, make sure you contact some of the movers Hoboken NJ has, as it will make your relocation much easier. You can also discuss popular neighborhoods for young families. On the other hand, it offers opportunities for teenagers and adolescents with multiple colleges and universities, as well as many places to go out to.
An urban retreat in Jersey City is one of the most popular NJ cities for New Yorkers
Best known for the historical hotspot, the Liberty Island National Park, Jersey City is built around NYC's identity. As it entirely encircles the Statue of Liberty, it's hard to separate it from New York. That's exactly why many young New Yorker families decide to move here with their kids.
The prices in Jersey City are much lower than in New York in general, but it doesn't feel too far away. Moving here shouldn't be a problem, especially if you hire some of the movers Jersey City NJ can offer. Professionals will help you navigate through the city and settle you in with ease.
Weehawken, NJ
Not exactly a city, the township of Weehawken numbered only between 17 and 18 thousand residents. It offers a real small-town feel, with a community that is more familiar with each other than in some other places. However, it hosts an urban culture like the rest of New Jersey. Even though a small community, the township is filled with bars and places to go out. It can be both a fun place for young people and a nice retreat for families with kids. If you're yet trying to familiarize yourself with the township, don't hesitate to contact professional movers Weehawken NJ. They can help wrap up your old home and provide insight into Weehawken's popular spots.
Englewood, NJ
Another one on the list of popular NJ cities for New Yorkers moving with families, located in Bergen County, the city of Englewood is yet another small city numbering just something below 30,000 residents. The city is approachable and you could even move here by yourself. However, after hiring movers Englewood NJ will be yours to explore much sooner.
Many families move to Englewood trying to retreat from large urban communities. A tighter community is often safer for kids and allows them to develop with more confidence. Proximity to New York also means they'll always be a step away from the country's main business and culture center.
Other reasons why NJ cities are popular with New Yorkers moving with families
Your kids can get a quality education in New Jersey. From kindergarten to high schools and colleges, they can get all they need here before enrolling in a university. There are good universities in New Jersey, such as New Jersey City University. However, many young people are attracted to exploring the country or moving to New York at that age. However, up until that moment, they won't miss anything in New Jersey. The state has a decent number of both public and private schools, leaving many options for your kids, and their growth.
Historical architecture around all of New Jersey is very well preserved. It adds to the special feel of the state but also reminds me of certain parts of New York. While they developed separately, it's clear they share the common roots. Both cities preserved their architecture, but New York eventually developed its own modern identity. Jersey is more about the culture than the grand architecture and dense living like you'll find in NYC.
Most people in New Jersey are welcoming. While they hold onto their identity, many young people found their home here too. This is slowly transforming the culture, which is apparent with the number of bars and its focus on nightlife. This influences the whole community that remains open-minded and welcomes any newcomers. You won't regret it if you move here, and your kids will enjoy it. If you choose to move here, you'll soon realize why there are so many popular NJ cities for New Yorkers moving with families.