Let's break the first relocation misconception – moving doesn't have to be a stressful experience. That being said, it is up to you to plan accordingly! Preparing ahead of time for your move is crucial. Starting the process even 3 weeks ahead of the actual move date will give you plenty of time. However, this is not everything. You need to see whether you want to hire Teddy Moving and Storage or try to do everything alone. It is always better to hire professionals. Even then, there are plenty of things to do before transporting your items to your new house. For this reason, here is everything you should know about how to organize your move.
Why should you hire professional movers?
A group of friends in theory should be enough to help you prepare for your relocation and save a few dollars by doing so. However, the relocation process is a complicated one even for the most diligent preparers, leading to high doses of stress and unexpected costs. If furniture pieces are not handled with proper care and protection, you can cause damage. The lack of experience in not just protecting your bellowed furniture piece, but also packing your fragile glass or china items, or electronics, could lead to potential mishaps. This is why hiring moving professionals is always a way to go. According to movers Brooklyn that residents trust, here is what your relocation schedule should look like.
Hiring the right moving company
Decluttering your household
Gathering all the packing supplies
Preparing all the documents, making reservations, etc.
Packing and moving
How to choose the right moving company
You should choose a reliable moving company that perfectly fits your needs and budget. First of all, you can ask your friends and family members for recommendations. Then, Google is also an option. After this, you should obtain quotes from at least 3 moving companies. This will give you a chance to compare their offers. It's always important to compare the exact inventory list, special handling fees, and so on of moving companies Queens if this is your destination. Avoid any unpleasant surprises on the day of the move by reviewing companies' reviews on social media.
If you get quotes even 3 weeks before the actual move date, you still have enough time to plan your schedule accordingly. In addition, this also means moving companies can provide you with budget-friendly rates since you are inquiring ahead of time, thus avoiding last-minute fees. Scheduling the move well ahead of time will help the organization and packing process on your end. A moving company can also prepare the logistics on its end accordingly.
Moving your office to NYC
You also might need to organize a commercial relocation. The process is fairly similar to household relocation. You should start to organize your move by hiring commercial movers in Brooklyn at least four to six weeks in advance. Prepare all the documents, equipment, etc. However, there is one big difference. You also need to notify your employees. If you are moving your new office rather far away from the current location, give your employees a chance to choose. On the other hand, if you are simply moving from Manhattan to Brooklyn, it is safe to assume that everyone will make the transition. In addition, it is also important to make arrangements with your clients. After all, you won't be able to work for a couple of days. In order to minimize the financial loss, you should prepare everything well in advance.
Decluttering your household before moving
It is always a great idea to get rid of things you don't need. Donating belongings while taking notes on what needs to be replaced is a great way to do it. In addition, it is also more budget-friendly to move fewer items with movers. Moving is a great chance to organize your belongings and get rid of items you no longer use.  Keeping the layout and size of your new place in mind is imperative. This could mean more or less space for your belongings. As mentioned, donating is one option. However, you can also try selling your items online if they are in good condition. It is always great if you can get some additional money to use for your relocation. Then, you can look up all the charities in the NYC area and pick the one suitable for the type of items you have. Lastly, you should throw away all the items in bad condition.
Preparing packing supplies for your items
Movers and even people who move on a more consistent basis know that the packing process itself usually takes longer than expected. Therefore, it is highly recommended that you begin packing as soon as the details of your move are finalized. In the perfect world, sorting and packing your belongings should be done within the course of a month or two, depending on the size of your home. Unless you must pack and leave your current home quickly, chances are you have between 20 and 40 days to plan everything. Your sanity and even movers on the day of the move will be thanking you. Before that, you need to decide whether you will use a packing service in NYC or not. If not, then, you have to gather all the packing supplies. These include boxes, packing peanuts, bubble wrapping, etc.
How to pack?
Packing all your possessions into boxes, bags or bins can be overwhelming. A few weeks before you start packing, grab a few boxes each time you visit the grocery store. This way you can save money. In addition, use laundry bins, suitcases, and large bags to transport items. Also, feel free to label all boxes according to what room they go in to help your moving company. As our Astoria NY movers advise labeling each side with a black marker will help you later to find what you need in the stack. Try to put heavier items on the bottoms and do not leave empty spaces in the boxes (fill in gaps with clothing, and towels).
Preparing a First Day box
You should include everything you need for the first 24/48 hours in your new home in one box. All the essentials: toiletry bag, a change of clothes, chargers for phones and laptops, cosmetics, toothbrush and toothpaste, and some snacks. You will thank yourself when the time comes. This is especially important if your new house is completely empty. When you need to organize your move, do not forget to pack one or two boxes full of all the necessary things to survive.
Avoid making new purchases and bulk shopping
If you made a purchase, you should schedule the delivery after moving the day directly to your new house. Also, a month or two before your moving day, you should avoid bulk shopping. Try using all the food and household items that you already have, so you don't need to pack groceries and transport them as well. Wherever you decide to move, there is a supermarket nearby. This way you will save time and energy. Also, you will get to familiarize yourself with the neighborhood as soon as you move.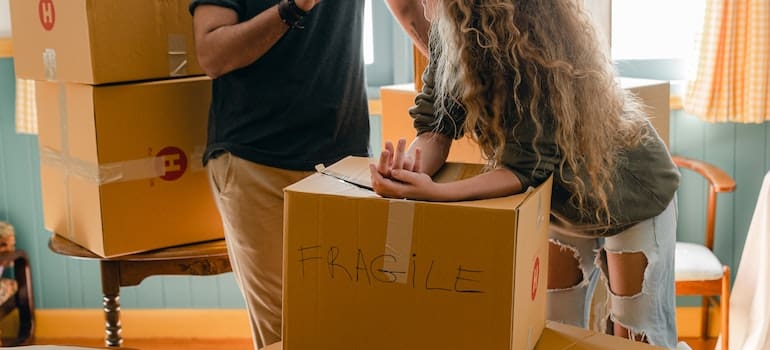 Communicate with your movers when you organize your move
When you get to the big heavy items, it is necessary to let your moving company know what they are dealing with. For this reason, call your movers and explain everything prior to your moving day. Your movers should know all details to estimate the total time and cost of your relocation. Overweight items, items of high monetary and sentimental value, the cut-off times for elevators, or special handling of furniture should be mentioned and discussed prior to agreement with a moving company. Be ready and packed before the crew arrives. Searching for a box will make unnecessary delays which may increase your cost. Some other things that you should have in your mind prior to moving are connecting TV and internet, transferring utilities, updating your address, etc.
Scheduling elevator times and obtaining COI (Certificate of Insurance)
It is imperative to schedule the elevator for move-ins and move-outs and obtain all the necessary information about the Certificate of Insurance (COI). If you can secure a parking spot in front of your building or house that will be great for the moving crew and your move will be even more efficient. Make sure to do this well in advance. You will have to pay more if your movers can't use the elevator. On the other hand, you can't just use it without prior notice as this will disturb other tenants. As for the insurance, you can check with your moving company. Depending on your situation, see if it is necessary to have one or not.
How to organize your move successfully?
As you can see, it is not that hard to organize your move. Hiring movers should be your priority, especially if you have never moved before. The next priority would be starting on time. This usually means four to six weeks in advance. When you have enough time, you can prevent all the possible problems and mistakes. Therefore, do not hesitate and start preparing everything well in advance!