The pandemic has changed many things all around the world. The crisis has affected people's lives and jobs.  Some things had to change. People started working from home and guess what – it has become quite normal even nowadays. Then, the question remains – What place is suitable for you in case you work remotely? We must observe numerous factors to provide the answer to this question. Fortunately, some people have already done this. New Jersey is perfect for remote workers if we consider livability, affordability, work environment, comfort level, quality of life, and many other things. Be that as it may, you ought to consider well your relocation with the assistance of moving and storage NYC if you plan on working remotely.
What are the advantages of being a remote worker?
Though the pandemic has lost its intensity, working from home has become quite normal. After all, remote workers have more time and not so many distractions. As a result, productivity increases. Workers can finally focus more on performance. Isn't that one of the main goals in every business? Thus, both the company and the employee will benefit from remote working. It saves you time and money. Also, it enables you to be more flexible in your job. What is left is to find a suitable home in a city most convenient for a remote workforce.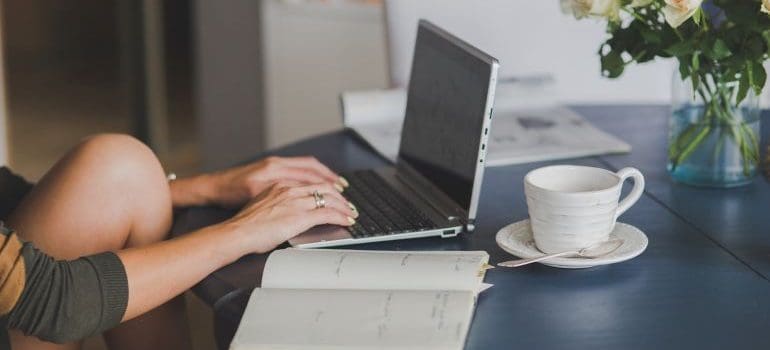 Is it true that New Jersey is perfect for remote workers?
Well, there are several cities in the U.S. that possess excellent features needed for those who work remotely. However, one is particularly standing out. If you are looking for a place with a superior quality of life then New Jersey is the right place for you. It is especially suitable for families. Hence, movers in New Jersey are waiting for your call. The crisis has led everyone in search of affordable housing space. Though the housing costs are about 40% higher than the national average, New Jersey offers financially suitable homes for remote workers. After all, in comparison to NYC, the affordable housing options are various. As matter of fact, many employees of a large number of NYC companies are situated in New Jersey.
Moreover, what makes New Jersey impeccable for remote workers is a strong digital infrastructure that is ideal for remote workers. After all, they require an excellent internet connection. Nearly 97% of households have internet speed above 25Mbps.
What has WalletHub analysis shown?
Two key dimensions were the result of the comparison of all 50 states performed by the WalletHub – work environment and living environment. On a 100 -point scale New Jersey won first place with a total score of 66.75 points.  Thus, you can be certain now that New Jersey deserves the title of being one of the leading places where remote workers can live a comfortable life.
Beachwood, NJ
Beachwood is a small riverfront community with more than 11,000 residents, located in Ocean County. According to PCMag, it is ranked among 50 "The Best Work From Home Cities for 2021". According to their analysis, it is considered to have the best balance of affordability, livability, and connectivity. Furthermore, Beachwood is approximately an hour away from NYC. Therefore, it is absolutely perfect for remote workers and their families. Movers NYC to NJ will have an easy task relocating you to such a great place.
The benefits of living in New Jersey are various
We are completely sure you are to hire movers Weekawken NJ to relocate your things to New Jersey, an excellent place for a remote workforce. Numerous positive aspects of life here attract people from all over the U.S.
location
education
entertainment
crime rates – One of the lowest property crime and violent crime rates.
health care – Supreme health care system.
Location is an important feature of every place
If we talk about its location, we can only state it is excellent. It's situated practically in the center surrounded by New York City, Philadelphia, Boston, and Wahington D.C. Thus, it has easy access to mass transit. Remote workers can reside here and easily reach all major cities in case their companies are located there.
New Jersey is an excellent place to raise children
The word we could use is supreme since New Jersey is definitely supreme when we speak of education. As a matter of fact, New Jersey has one of the best schools in the U.S. Moreover, an interesting fact is that more than 47% of the population is college-educated. Therefore, you won't make a mistake by choosing New Jersey to become your new home and contacting movers Englewood NJ. You can be certain your kids will have a secure future.
Enjoy every part of New Jersey
Why is New Jersey called the Garden State? Well, it is home to over 9,000 farms and you have the honor of buying always fresh farm products.  As for shopping, you will be thrilled knowing the number of malls available for you to buy new things. Moreover, when the summer comes you can revel in some of the most beautiful, beaches in the North East. Those who enjoy nature will find pleasure in New Jersey's natural beauties. Incredible landscapes, lakes, mountains, woodlands, and waterfalls are luring you with their beauty.
New Jersey is ready to become your new home
Altogether, New Jersey is perfect for remote workers. Especially for families with children. Its amazing school system, natural beauties, and a variety of other opportunities make it a splendid place for a new beginning. Hence, you will be able to work with increased flexibility and enjoy all parts of New Jersey. Impeccable internet connections will enable you to get the job done in time. Hence, your employers will be completely satisfied. Therefore, feel free to choose New Jersey as your new residence and be satisfied with all aspects of your life.