Relocating your home can be quite an adventure. People move all the time and some enjoy it while others can't stand it. Simply because there are many tasks one must cover before one can arrive in NYC. As you know, you must organize, create a moving checklist, dedicate a budget, create a packing plan, hire local movers NYC, and much more. But if you are moving with kids, then it becomes a different story. There is a question of safety and concern, especially in a city as large as NY. Constant stress might slow you down and hinder your progress. Therefore, to keep yourself sane and everyone happy, let us offer a few tips for moving with children. Your kid's safety is what matters the most.
Start this journey by creating a comprehensive relocation plan
One of the greatest tips for moving with children we can provide is the preemptive strike. Yes, the plan for the whole relocation. As soon as you realize you are moving and before you tell your kids, you should sit down in peace and assemble a moving checklist. Gather your thoughts and share the knowledge with your spouse. Make the best possible plan you can without any influence on your little ones. Like the Long Island City movers you will hire, the checklist, the packing plan, and so on. Then, once you present the news to the other members of the family, all hell will break loose. In such a hectic environment you might not be able to work in your prime so you must assemble your checklist straight away while you still have a piece of mind. But when it comes to your kids there are some things you can do when moving to make it easier for both you and them.
Pack together – Packing together won't just help you out, but the kid as well.
The new neighborhood – Trips around the new home will help them feel more comfortable after moving.
Age matters – Kids of different ages react differently when told they need to move.
Those are the basics. And for the inventory list, you must inspect your home and note down all the furniture you possess. Also, try to figure out how many boxes there will be and calculate how much you must invest in packing materials. Moreover, you should measure your stairs, hallways, and doors to figure out if your home is safe to work in. If you have time, inspect your loft, garage, and basement, and note everything on your inventory list. This way you'll have a better insight into the complexity of the move. With this information, your last minute movers NYC will be able to create a much better and more organized relocation plan.
Pack together
Maybe you are scared that your kid is in danger while being surrounded by all those items and packing materials. But if you engage them in the packing process and keep them under your eye all the time it might be even fun. You can spend an amazing time packing with your kid but this depends on how old they are. If we are talking about a toddler then you can keep it next to you while packing slowly and keep an eye on it. But if it's a kid above the age of 10, then they can help more than you think. They can help you sort stuff out, declutter before moving, pack, and label. Amazing, right?
On the other hand, if you have a stretched budget, you can simply go out and have some fun with your children while your movers take care of everything. Purchase packing service NYC and let your movers bring all the materials required, pack, and unpack upon delivery. Think about it, it might do the trick. Kids love boxes! And they are one of the best ways to keep them occupied during moving. When moving with kids, make forts and passages and watch them play there for hours while you can pack in peace. On the other hand, if you have a small baby, then it doesn't know you are packing. And it really doesn't care. Everything your baby wants is attention. If you are present and active with them, it will make a big distinction in how they adjust to the move. So make time to give them lots of hugs and tickles.
The new neighborhood
Another tip for relocating with kids we can provide is to exclude yourself from the whole process completely. Especially if you can't explain to your child what is going on in your home at the moment. And of course, you should try first. But again, if your kids are small, then it might be hard for them to understand and such confusion might have a great impact on their emotional state. Therefore, think about taking your kids on a vacation to lift their spirits. And at some point, you will have to take them to the new neighborhood and show them around. The sooner the better. And is there a better time than while your movers Queens are working?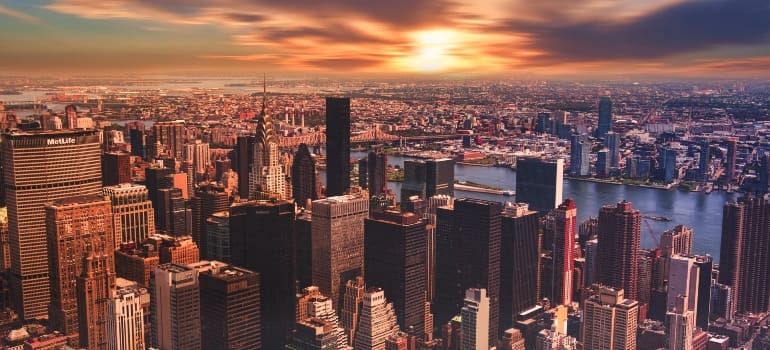 We suggest taking them to the local park, their new school, a shopping mall, a playground, etc. Show them around and try to elevate only the positive aspects of this relocation. Tell them they will meet new friends and that this is an opportunity for fun, adventure, growth, and much more. Make your unique approach because you know your kids the best. Just make sure you explain it somehow. Be there for them because they need you now more than ever.
Age matters
When moving with your kids there are some things that influence the whole process. Among them is also the age of your kids. For example, if your kids are small babies they will need more care and attention. Making it impossible to fully concentrate on the moving process. Therefore, hiring residential movers NYC is highly recommended when moving with kids. But if the kid is older, it can be helpful during the move. From little things like packing their toys, and clothes, to some that are bigger and more serious like watching over their younger siblings.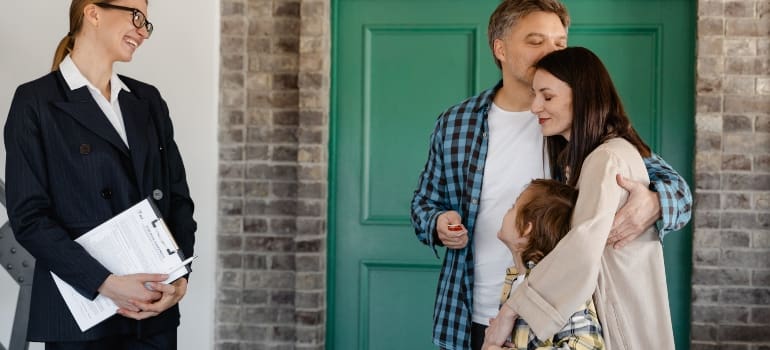 Your babies might not even notice the move. Toddlers and preschoolers won't understand fully what's going on they will still see something is happening. On the other hand, school-age kids, and teens can be troubled. This is the age when your kids are the most sensitive. And when you come home and tell them that you decided to move chances that they won't take it well are high. So don't be discouraged.
Hire moving professionals
Obviously, you'll need a lot of help when relocating home. And what better way to split the difficulty in half than to hire professional movers NYC? All you must do is go online and browse for the best local moving companies. In a matter of minutes, you'll find a few choices worth checking out. Narrow your search down by comparing reviews, prices, and services. Once you find a match, give them a call and confirm they have licenses and tools to cover all tasks related to your relocation project. Communicate all the details and if you are pleased with the outcome, set the moving date.
A few more tips for moving with kids
Now, a few more tips before we hit the road. Presumably, your entire family will pitch in and help a bit. We already mentioned that your moving company will cover the hardest part. So, you are pretty much covered. But, if you engage your kid in certain aspects of the move as well, they will learn a lot. For example, if they pack their toy box or a designated box with their personal stuff, it will do them good. They will develop a sense of accomplishment, involvement, and importance.
They will realize they are assisting in this move and if they unpack and set everything up in their new room, it will be priceless. Your little ones must grow up at some point and this would be a good lesson to learn. Hence, evaluate the situation and if there is room for a project like this one, go for it.
Stay safe and wrap it up
Finally, you shouldn't worry that much. If you do, you will stress out and transfer all those negative energies to your children. Your kids can feel it and if they get unsettled it will make a chain reaction. Yes, you should ensure your relocation is safe. It is enough to be sure your kids are not around any appliances, sharp objects, hazardous materials, etc. But to think that the sky will fall on their heads just because you are moving your furniture is a bit absurd. Just keep them at a safe distance while performing hard labor or remove them from the house completely. That is why we have kindergarten, babysitters, and grandparents for.
Those were a few tips for moving with kids. Hopefully, these tips have provided you with something to think about and allow you to make your relocation a bit easier. Just remember not to freak out when your kids are around. Stay cool and smile often. Hug your little ones and stay positive. Soon you'll be exploring your new home and the New York neighborhood together. Good luck!