Picking the right place for the move with your family can be tricky. There are too many factors that you need to have in mind. And if you are looking to move to New Jersey, then you would want to know what you can expect from it. Today, Teddy Moving & Storage will help you out with this issue. We will tell you what you can do here and what this place can offer your kids. Here are some of the reasons why families are moving to New Jersey.
One of the reasons why families are moving to New Jersey is the family-friendly activities
This is a very family-friendly place. There are a lot of things that you can do with your kids! It is something that can mean a lot to someone who is moving here with their children. Many opportunities for a great education, sport, arts, and other activities. It is something that you can rely on when moving to New Jersey. Some of the biggest reasons are:
The school system of New Jersey is ranked as the #2
Did you know that in the whole of America, over 100 high schools are at the top of the list?
New Jersey is home to Princeton University, and Rutgers University New Brunswick. Here your children will receive a great education for sure.
Enjoying outdoor activities? Sure! You can have a lot of them once you move in.
Many groups help parents with important information.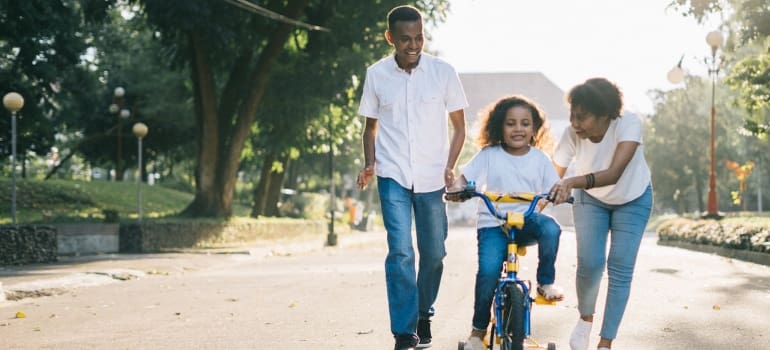 Moving here with your kids can be a great idea! Not only will you have a wonderful time, but your children will receive everything they need. If you plan on moving here soon, then make sure to contact movers in New Jersey to help you out. With their moving experience, your relocation will surely run smoothly.
Rural areas offer peace
New Jersey is one of those places that can offer you everything you need. But, what if you are more into rural places and avoid the urban environment? Well, you are in luck because here you can have it all. The average price of renting in Manhattan can be a whooping $4,200 while you can pay only $1,200 in Newark. It is one of the best places where you can move, and you will certainly save a lot of money this way. It doesn't hurt to know how to handle your finances as well. And if you are planning to have a budget for your next year then this is the place you should go to.
We all know that it is important to have a budget for everything. And when we have kids, it can be even more stressful to do it. You will probably have to focus on the ways you can save money and then invest it in something more. And when you have to move, there are risks of losing finances as well. Especially when you deal with potential scammers. The best way you can avoid this is to hire professional movers for your move. With the help of movers Jersey City NJ, you will surely move at an affordable price. Then you can focus on your plans without any stress.
New Jersey is very accessible
This is a place that you can access with all sorts of transportation. It is a hub for many important places on the east coast. Conveniently positioned between New York and Philadelphia, New Jersey can offer you the best place you can move to. If your work is taking you to these cities on regular basis, then you should move here. With all the transport options, you will reach your destination without any problems at all.
Being well connected with other places is very important for every city. Especially if you are moving here with your children. You would want to know that everything is under control and that you and your kids can reach places without any problems. With that in mind, you would be happy to know that the streets are great, and you can reach your place by car without any problems. That means a lot when you are moving with a moving truck. Movers NYC to NJ know this, and will move you here with ease. That is why you should call them before you move out.
Jobs are great
Moving here with your family means that you need to provide them with income and other necessities. This is a factor that can have a major role in picking the right place to move to with your family. And New Jersey is a great place to move to when it comes to the job market. One of the biggest employers in New Jersey is:
Life Sciences
Pharma companies
Advance Manufacturing
Healthcare
Transport and Logistics
You can find some of the best-paying jobs in these fields. It is one of the biggest reasons why families tend to move here this year. And if you are moving soon, make sure to do it with the assistance of movers Hoboken NJ. They can handle any sort of move without any problems.
Make sure to have a good moving plan
Relocating with your kids can be tricky. Especially when you have to pay attention to a lot of things you need to do before the move. That is why you need to make sure everything is going according to plan. And the best way to do it is to make a moving plan that consists of the following tasks:
Have professional movers Englewood NJ helping your move.
Make sure to have enough packing supplies for the move.
If you can, ask your friends to help you pack.
Finish other important paperwork for your children.
These are some of the most important tasks you need to complete before the move. And that will ensure that everything is going without any mistakes.
Now that you know what are the reasons families are moving to New Jersey, you can think about your moving preparation. We hope that we helped you out with your move, so you don't have to stress about anything. Keep reading our blog to read more and learn something useful.