Living and working in NYC has to be one of the best things in the world. A lot of people dream about coming to this place for at least a couple of days. Others however may decide to stay in NYC permanently and make their dream come true. But what a lot of them don't understand is that NYC is filled with different places and neighborhoods. Both the Sunnyside and Bushwick have different histories and traditions and your search for a perfect one may last longer. Today, we present you Bushwick vs Sunnyside as they are usually among the top choices! Here is a neighborhood overview for everything you should know.
How often do people move to these two neighborhoods?
Being one of the best moving companies NYC has, we can provide accurate answers. You would be surprised to know that NYC has a lot of new residents arriving daily. And since it is one of the top destinations for tourists in the world, you get the picture. Living and working in NYC requires a certain lifestyle and everyone who moves there adapts pretty fast. Back in 2019 around 58,664 people arrived from New Jersey and decided to settle somewhere in NYC. The majority of them were looking for better jobs and lifestyles in general.
When it comes to Bushwick and Sunnyside, things are pretty similar there as well. These two neighborhoods are just 3 miles apart which makes moving extremely easy. With a distance this short, there are only a couple of differences you should consider. Our movers in Brooklyn can confirm that New York is part of some of the busiest moving routes in America.
Bushwick vs Sunnyside in terms of communities and people
The first difference we come across is in terms of people living in Bushwick and Sunnyside. If you are looking for a place rich in art and activities related to it. According to our movers Bushwick whom residents trust,  the neighborhood is more suitable for artists, musicians, and everyone who is looking to make their life richer. After moving there you will come across old storage units that are now sources of fun and good music. A lot of people will often visit this neighborhood from other cities as well. Since Bushwick is host to many festivals, it is a pretty hot spot for tourists.
On the other hand, Sunnyside is more subtle but diverse as well. While you can still end up in amazing restaurants and clubs, it will not be the same as in Sunnyside. Those who prefer their peace and quiet, already know the answer.
Things to see and do in Bushwick vs Sunnyside
If you decide to move to Bushwick you will be greeted with a couple of things you can't see anywhere else. This place has the perfect mix of cultures and is pointing them down in the best way possible.  And when the weather is rainy, you can find a lovely bar or public library to spend some time in. In this neighborhood, your new community will welcome you with open arms and help you adapt better!
Being in the best part of Queens, Sunnyside is extremely suitable for all ages and professions. There you will find everything you need including:
Good schools and kindergartens
Fancy and traditional restaurants
Museums, galleries, and historical houses 
You may find the architecture in Sunnyside to be much better and that can be a turning point in your research!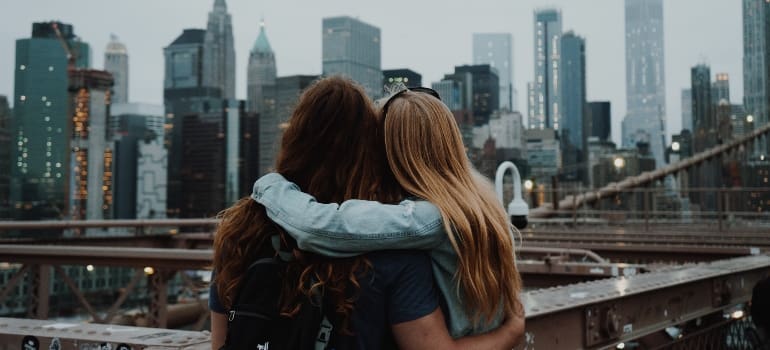 Bushwick vs Sunnyside in terms of job opportunities
One thing where the difference between these two is pretty visible in business. Those who plan on moving there and then looking for a job will find Sunnyside to be much more suitable. In this neighborhood, there are many companies offering stable job opportunities for Sunnyside residents. Professions vary and you can find a job as a freelancer, doctor, or teacher. While Bushwick also offers different jobs, you may wait a little longer to get one there. The easiest option is to go with remote working if that is possible, and then you will not have to worry about the future.
Whatever you decide to do, make sure you start looking for a job on time. NYC has pretty high living costs, especially housing and the last thing you need is to wait for a job interview too long. Timing is essential when it comes to moving and it will be much easier to catch up with certain tasks if you always keep it in mind. Our movers in Sunnyside NY can easily make that happen.
Other Bushwick vs Sunnyside things to note
The good news is that you will still get to keep all those things you used to love once you move from one place to another. They are relatively close and if you ever become nostalgic, you can visit your old home in a matter of minutes. Our expert movers Queens will do the same with your relocation. It will be fast and efficient and you will be in your new home in no time!
Adapt and enjoy both Sunnyside and Bushwick!
Adapting to these two neighborhoods will be equally amazing! Living in Bushwick will get you closer to family-owned businesses, pizzas everywhere, and of course shopping. You will get a chance to meet new and lovely people who will make sure to introduce you to the entire community. Both neighborhoods have wonderful parks where you can spend time with your family or friends. 
It turns out that Bushwick vs Sunnyside dilemma completely depends on you. The best thing you can do is pay a visit to both of them and take some time to make a decision. After all, traveling back and forth is easy and fast and can become a pretty nice habit. Whatever you choose, you will be happy to call it your home.