NYC is certainly the most popular city in the world. The city currently has almost 9 million residents, but this number changes almost every day. Also, NYC records about 25 million tourists every year and some of them decide to find their permanent home here. No matter the reason for your relocation to NYC, you will certainly fall in love with this city that never sleeps. However, the greatest challenge of moving to NYC is finding an apartment. Real estate is very competitive as demand is high and housing options are limited. Additionally, rental prices are really high in NYC, especially in certain parts of the city. So, our professional movers NYC trusts like to say, make sure to find out everything you can about the most popular neighborhoods in NYC for apartment hunters before entering the market.
What are the most popular neighborhoods in NYC for apartment hunters?
The most popular part of NYC is certainly Manhattan. Therefore, your wish is probably to find an apartment in Manhattan. However, Manhattan is a borough in NYC with 53 neighborhoods. There are a couple of neighborhoods that stand out such as Morningside Heights, Tribeca, Central Harlem, Gramercy Park, etc. Between these listed NYC neighborhoods, Gramercy movers will recommend Gramercy Park for apartment hunters. Gramercy Park is a name for both the fenced-in private park and the surrounding neighborhood. For this reason, the median rental prices are higher, but a slight price decrease happened at the beginning of this year. The median rental price for a 1-bedroom apartment is $4,600, while it is $5,500 for a two-bedroom apartment. Currently, there are 26 available apartments in Gramercy for renting. Aside from Gramercy, other good neighborhoods for renters are the following:
 Greenpoint
Astoria
 Washington Heights
Murray Hill
 Chelsea
Lower East Side
Tribeca
How much does it cost to rent an apartment in Astoria?
Astoria is one of the best places to live in NYC. Astoria NY movers can confirm and ensure that all previous clients wouldn't move from Astoria for anything. This is an urban neighborhood with a vibrant lifestyle that is perfect for young professionals and people. There are around 83 000 residents currently living in Astoria, but don't be surprised by the growing number. Also, Astoria was named one of the coolest neighborhoods in the world. Now, the renting scene is competitive as in all of NYC. The rental prices will depend on the size and location. So, the apartment prices range from $2000 to $4000. For example, the median rental price for a one-bedroom is around $2,300, $3,000 for a two-bedroom, and $4,000 for a three-bedroom apartment. The apartments located near East Rivers will cost more due to their better location and stunning view.
Why is Greenpoint a perfect place for renters?
Greenpoint is a neighborhood located in Brooklyn and it's also known as Little Poland due to the large Polish and Polish-American community. The population of Greenpoint is around 38 000. If you ask movers in Greenpoint which neighborhood is the best, they will certainly pick Greenpoint. There are many reasons why you should live and rent an apartment in Greenpoint. It's a lovely neighborhood that offers an urban lifestyle with many advantages. However, these advantages don't come cheap. The median rental prices are higher than in Astoria and there are similar to Manhattan prices. The rental price for a one-bedroom apartment is around $4,000 and prices increase with the number of rooms. But, Greenpoint is one of the best neighborhoods in NYC for apartment hunters as there are many modern rentals to choose from. For this reason, you should first check Greenpoint for available apartments.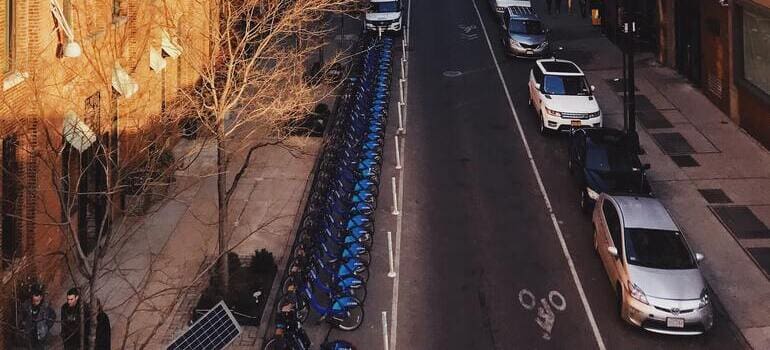 What Washington Heights has to offer for apartment hunters?
Washington Heights is another neighborhood located in Manhattan that is popular among renters. The neighborhood is one of the most affordable in Manhattan and offers many advantages besides affordable prices. People who moved here are mostly pleased with the diversity and sense of community. Now, the rental prices are affordable compared to the rest of Manhattan which is why Washington Heights is so popular. The median rent price for a one-bedroom apartment is around $2000, but you can easily find an apartment for less than this price. Of course, there are also apartments to rent for the higher price such as $4000 and more. It all depends on the size, location, etc. Finding an apartment in NYC these days is not simple. For this reason, you should focus first on neighborhoods that are good for renters.
What is the average rent price in Murray Hill?
Murray Hill is a neighborhood located also in Manhattan and it has a population of around 30 000. It is one of the best places for young professionals and people who want to have fun. The neighborhood has a lot of nice and interesting bars and restaurants where you can eat and drink for cheap prices. However, the rental prices are not exactly affordable as in Washington Heights. The median home price for a one-bedroom apartment is higher than $3000 and some studio apartments cost more than $5000 per month. But, it could be said that prices are justified to some degree as apartments are usually very nice and modern. Additionally, the biggest advantages of living in Murray Hill are safety and a sense of community. The neighborhood gives off a small-town feel with big-city privileges. The location is also great as it's close to midtown and downtown respectively.
How to choose the best neighborhood for you?
NYC is one of the biggest cities in the world with five boroughs and more than 300 neighborhoods. For this reason, finding a perfect home and neighborhood is not an easy task at all. If you are moving to NYC for the first time, you can make your apartment-hunting process easier by focusing your search on the most popular neighborhoods in NYC for apartment hunters. Of course, you can also search in any part of NYC that you want and find interesting.
References:
https://www.zumper.com/rent-research/new-york-ny/gramercy-park
https://www.apartments.com/astoria-ny
/https://www.apartments.com/greenpoint-brooklyn-ny/