Each relocation is a different process. Especially if we compare moving home and moving business. These are two completely different things. So, before you start moving a small office you should be aware of which mistakes to avoid. For sure, you will need professional movers NYC can offer you. Don't even think about doing it on your own. Even people that relocate their offices from time to time are not experienced enough to do it on their own. So, if this is your first time doing such a thing, don't even think about it. This is not the only problem many people do, but soon you will be aware of the problems that might occur on the way. Simply be prepared for them, so you can find a solution for each one of them before it is too late.
Moving a small office is not only about the relocation itself, and you need to take this seriously
Quite a lot of people believe that the location of their office is not that big of a deal. But this is definitely not true. Believe it or not, the location of your office plays quite a big role in many ways. Imagine if you have a location where your window is looking directly in other buildings or just another wall. Ask yourself if you will be able to find motivation there? Definitely not. Having a nice view can affect your motivation and imagination. And also your will to work. Of course, not only your view affects this. The way how you style your office is also important. It needs to be simple, but cozy at the same time.
Now imagine having to go to your office for a few hours each day. In total, there is quite a lot of hours spent daily just on the road to get there. This is one of the other reasons why location is important when you are moving a small office. It can't be located too far away from you, or too far away from civilization. This also depends on what kind of business you're running. But if it involves clients, you can't be that far away. So, before you hop onto getting commercial movers NYC can provide you with, make sure you find a proper new office in a good location first.
Another common mistake that many people make, is when they try to relocate their office on their own
No matter what kind of moving we are talking about, this rule is the same. Many people assume it is only packing up things in the boxes, and getting them to another place. But it is definitely more than that. There are people who have a lot of experience in this kind of job. And for sure, they will do it better than you will. And even though you might not believe it, hiring movers Brooklyn has will be more affordable doing it on your own.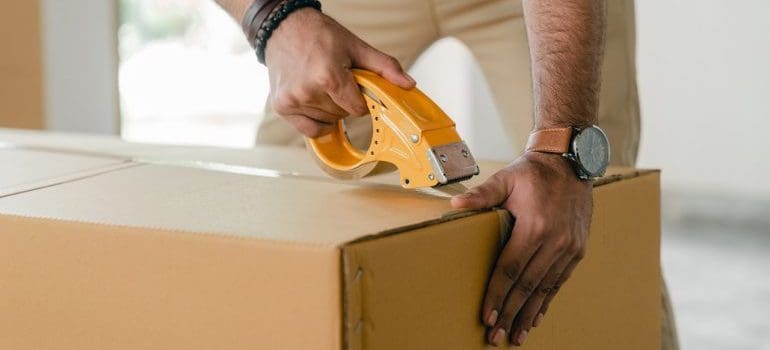 There are quite a lot of consequences when you are moving on your own. Especially if it is an office relocation we are talking about. Firstly, half of your equipment for office and electronic devices that you own are quite valuable and expensive. Now, you will try without any experience to pack them and to lift them, and carry them to your truck. The majority of cases in this situation end up not so well. To prevent any kind of breakage, damage, or loss of your items, you need those movers. Also, you need to be aware that if you do it on your own, it will last much longer than if they do it. As mentioned multiple times, they are the ones with the experience, not you.
Moving a small office is not that easy if you don't know how to pack properly
The key process for each relocation, no matter what kind it is, is packing. You need to do it properly, in addition, to relocating properly. And when it is office relocation, you definitely need help from commercial movers Brooklyn has. Simply realize what is your moving budget, and ask them for packing services. You can also stick around and help them with packing. But normally, they do the job in less than one day by themselves.
If, on the other hand, you don't want to do this, you will have to pack on your own. Now, you need to be extra careful because all of those items you're going to pack are quite fragile and valuable. You don't want to end up breaking them. Make sure that you get all the needed packing supplies first. When you have all the needed supplies, you can start packing. The best way to do it is if you separate things and don't mix them up. Make sure you wrap them carefully, and that you label each box from each side.
sturdy cardboard boxes, or plastic ones
wrapping paper, preferably bubble wrap
duct tape, scissors, stickers, and markers
some old newspaper for extra protection
packaging foil, so you can wrap your boxes in the end
Make sure that you know your moving budget before you make any kind of purchases
A huge number of people make this mistake. They don't check up on their moving budget, or their financial resources at all. That is why this is the first thing you should do prior to your move. Everything depends on the money that you can afford for moving. So, what you want to do is calculate first. Make sure that you have the precise number of financial resources. Check all of your bank accounts, safety deposit boxes, cash, savings, and so on.
Now from this part, set aside how much you're willing to pay for your movers. But be reminded that this is your work and business money, only for this kind of purpose. This means that with the rest of your money you will have until the next income. If you plan to decorate and furnish your office, you need to leave more money aside. You should also leave some extra cash, in case of some accidents. You never know if you might end up breaking some of your equipment. Check with your banking and other kinds of resources that you cooperate with. Simply look for a piece of advice on how much money you should be spending on your move. Make sure you calculate everything before you agree with your movers on price.
Once you finish all the work, it is time to decorate your office
The way how your office looks plays a big role in how you will work. Moving a small office is a great chance for you to renovate it. Make it fresh, and find new ideas on how to decorate and furnish it. After all, this is the place where you spend at least eight hours per day,  probably seven days per week. You need your office to be cozy. And you need something in your office that will make you calm. Play with your imagination and finally make an office you always wanted to have.