Sometimes a change of environment is what you need, especially if you are starting a family. Living in Manhattan has many advantages and can be great. But it's hectic and fast, which can overwhelm people. Therefore, it may happen that your ideal single neighborhood such as Manhattan no longer makes you a suitable place for family life. If after having a family, and you want to move with local movers NYC from Manhattan, Dumbo Brooklyn can be a great idea. Although New York is not what people associate with families, it still has a lot to offer. In case you are thinking about the many other options you have, our advice is to still consider moving from Manhattan to Dumbo Brooklyn.
Raising a family in New York
When you think of ideal places to raise a family, New York City will not be the first thing that comes to mind. However, it is a misconception that New York is a bad place for families. What's more, raising a family here has many advantages. Because New York has safe and affordable neighborhoods like Dumbo. Affordable housing, great schools, and lush green spaces are just some of the benefits of moving your family to Dumbo Brooklyn. So if you're wondering if moving your family from Manhattan to Dumbo Brooklyn is a good idea, our answer is yes. But before you decide to call the movers Manhattan and organize the move, read the text to the end and see for yourself.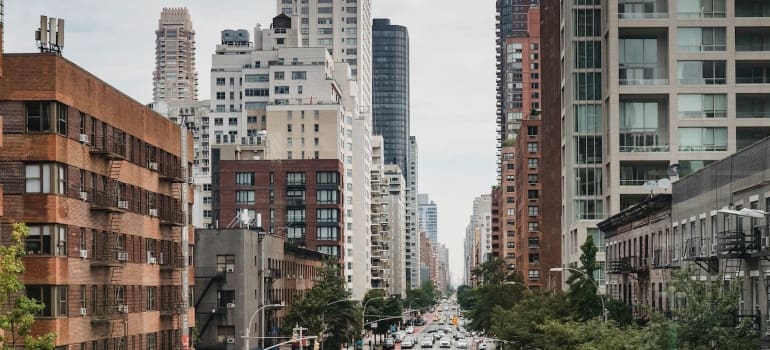 Cost of living is an important factor when deciding whether to move from Manhattan to Dumbo Brooklyn
When making the decision to move somewhere one of the first things you will pay attention to is the cost of living. Although it seems a bit odd since they are part of the same city, the cost of living in Brooklyn is significantly lower than in Manhattan. What's more, the cost of living in Brooklyn is 9.77% lower than in Manhattan. And that is certainly not a negligible figure, especially when we are talking about raising kids on the budget. Even so, living in New York is expensive compared to some other places. If you are not planning to change the city, but only the neighborhood – call moving companies NYC and schedule a move from Manhattan to Dumbo Brooklyn to rent a house.
Moving from Manhattan to Dumbo Brooklyn will give you some new opportunities
Dumbo Brooklyn has about 4,000 residents and is known for its proximity to Manhattan and Brooklyn Bridge and Park. What's more, this place has become a kind of refuge for families with numerous activities for children. Located in Kings County, it is one of the best places to raise a family in New York.
Education in Dumbo
Parents pay special attention to children's education and their progress. That is why it is very important to check what the schools are like before you decide to move from Manhattan to Dumbo Brooklyn. Fortunately, what makes Dumbo stand out is its excellent schools. Public schools in Dumbo are above average. Those are:
Public schools: District 13 STEM school PS 307 in Vinegar Hill – elementary school
Preschools: DUMBO Gan and NY Preschool
Daycares: Imagine and Bright Horizons
That's one less thing to worry about because if you move to Dumbo, you can be sure that your children will have an excellent early education. So, you can call movers Dumbo NY today and organize the move.
Family-friendly community
The most important thing when you have children is to be in a child-friendly environment. It makes life much easier for parents when the content is adapted to children. That is certainly not the case in Manhattan. A lot of positive things can be said about Manhattan, but it is not exactly family-friendly. This does not mean that you cannot enjoy yourself here with children, only that the environment is more suitable for adults and business people.
On the other hand, Dumbo is an extremely family-friendly community. Maybe even the most in all of New York. When you call your movers Brooklyn and move here, you will easily find families with children with similar interests in the neighborhood. It will be easier for your children, but also for you, to make new friends in an environment that is adapted to your needs. Speaking of which, we should also mention the popular family-friendly restaurants that you can visit with children in Dumbo.
Juliana's Pizzeria on Old Fulton Street
Time Out Market  in the Empire Stores
Shake Shack on Old Fulton Street
Westville on Washington Street
Some of them also have special menus, such as Sugarcane has delicious kid's Sushi with one salmon roll, 4 nigiri, and a side of fries or fruits for a reasonable price.
Where to have fun with the kids after moving from Manhattan to Dumbo Brooklyn?
Children are looking for constant animation and entertainment. That's why it's important to know where you can have fun after moving. Fortunately, Dumbo brings many possibilities for outdoor and indoor entertainment.
Sunday brunch with live music at Superfine restaurant
A visit to the Brooklyn Historical Society to watch the stunning kid-friendly film about the history of the Brooklyn waterfront
A pizza date at one of the delicious pizzerias in Dumbo
Coffee Brooklyn Roasting Company on Jay Street
Sweet treats at One Girl Cookies cafe on Main Street
Rides on the horses at Jane's Carousel in Brooklyn Bridge Park
In addition to all this, you can also visit the public library and a fantastic outdoor amusement park for children. As you can see, you will not be bored after moving.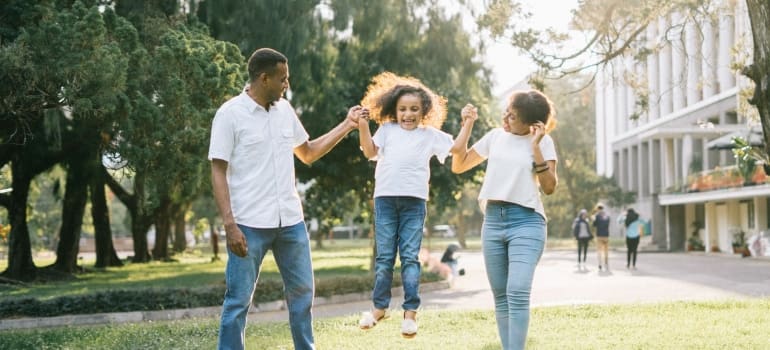 Final thoughts about moving from Manhattan to Dumbo Brooklyn with family
And finally, as you can conclude yourself – life in the Big Apple with children can be affordable and interesting. Yes, it will still be more expensive than some other family-friendly communities, but it is worth the money. So if you want to stay in New York with your family, moving from Manhattan to Dumbo Brooklyn is a good choice. Great schools, lower cost of living, nice parks and lots of fun for the kids are just some of the reasons why moving is a good idea.