If you're wondering how to relocate a small art gallery in Brooklyn, we're here for you. There are a number of ways to go about it, but generally, the safest is hiring fine art movers in NYC. If you opt for doing a DIY move, you will need to be extremely careful. Professional movers use the right materials and know exactly how to go about packing and moving your art. But still, it is up to you to make the decision and do what is right for you. So, let's talk about how to relocate a small art gallery.
Artwork is fragile
In order to relocate your art safely, you first need to be aware of just how fragile it is. Many pieces can be damaged extremely easily. They could break, tear, become dirty, or even lose some important part of the artwork. The best way to go about this is to just pay close attention and be very careful when relocating your gallery. Try to avoid drinking or smoking near the artwork and keep it away from any cosmetic products, or cleaning supplies. There is no point in relocating your gallery if you damage your art. So, slow and steady wins the race!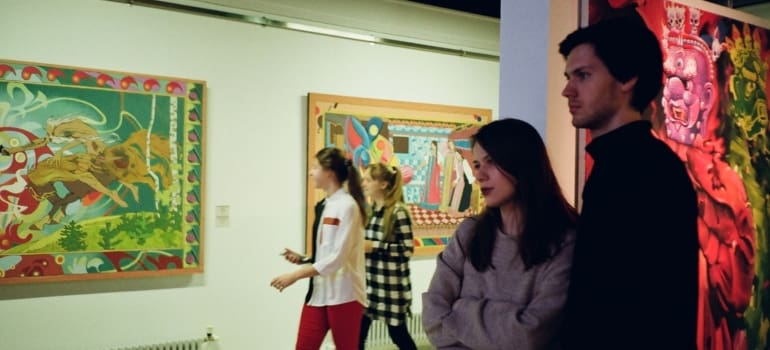 Pack your small art gallery the right way
Before you even start transporting your artworks, you need to pack them properly. What does this mean? You need packaging that will keep the artwork completely safe. If you were to wrap up your artwork in plastic, this will prevent it from getting dirty. Also, the more layers of bubble wrap or some other kind of protecting medium you use, the safer the paintings will be. Seeing how these pieces of art can be very expensive, it is imperative you do everything the right way. Additionally, keep in mind that if you're unsure of how to do things, professional movers NYC are always ready to pick up your relocation.
Put paintings in boxes
When it comes to transporting paintings, the best way to make them safe is to put them in appropriately sized boxes. Each painting will need its own box. After they are wrapped up safely in tape and bubble wrap, place them into boxes. It is a bit of a hassle, but it is the best way to ensure the safety of your pieces. All of the moving companies in Brooklyn advise you to find specific boxes. Also, there mustn't be any free space in the box. You can simply fill the empty space with bubble wrap, or some kind of stuffing. Once everything is done, just secure the boxes with good duct tape. The important thing is that your boxes are secured enough to not open.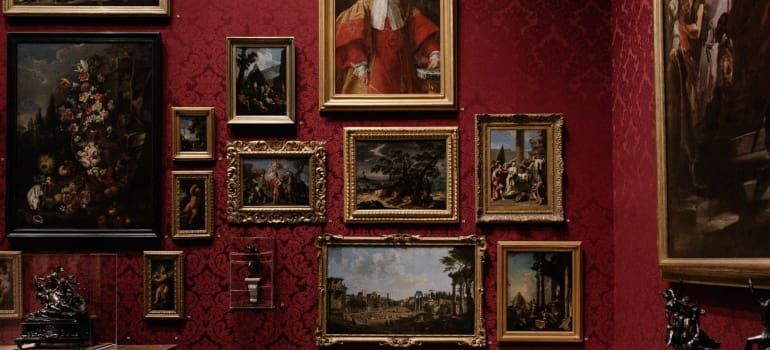 Relocate your small art gallery with care
Now it's time to load up your artwork into the moving truck. You have to place them in the correct position so that they don't bend and get damaged. The best solution when it comes to this is placing your boxes upright and filling up the space between them with soft objects. Pillows, cushions, blankets are all amazing choices. This will make sure that even if there are unexpected bumps in the road, your items stay completely safe.
Purge!
As with any moving process, purging is an amazing way to create less load for yourself and also a fresh new start. This means it's a good time to get rid of items you don't need anymore. This can be some furniture that is taking up a lot of place and doesn't go with the new gallery space. Also, dispose of any clothes or similar items you have at the gallery. There is no need to relocate anything that doesn't serve you. Additionally, purging before the move will make sure you have enough space in your new gallery. And you don't have to do it afterward. So, just get to it!
Hire fine art movers instead
If you feel like organizing a gallery relocation is too much work for just you (which it truly is), and you are not sure how to relocate a small art gallery on your own, you can always opt for hiring fine art movers. These movers specialize in keeping artwork safe and they offer incredible insurance options. By hiring professionals, you can rest assured that your move will be conducted successfully and safely. They know what they are doing and they've done it a million times. As with commercial movers in Manhattan, there is no safer way than letting experienced movers take charge and do what they do best.
Get good insurance when you relocate a small art gallery
Even if you don't hire movers, insurance is something you can get either way. This is a very important step in the process. Your priceless artwork can't be replaced just like that. There is only one copy of one artwork. So, moving insurance is more than worth it!
Be careful where you store your art gallery
Maybe you need to store your artwork before you move into the gallery. There are countless places that offer affordable storage in NYC and you will have no issues finding the one you want. But you need to be sure it is of good quality. See if there are any climate-controlled storage units since your artwork can be damaged by wetness or high temperatures. Storing art in your basement or attic is out of the question. Don't fall into that trap! You will surely damage a few pieces. But the storage facility you choose needs to have proper protection from rodents and dampness. This is what you need to pay attention to.
Those were our tips on how to relocate a small art gallery! We wish you luck.