Moving often requires special equipment and much attention to detail. While packing and transporting regular light items may be easy, other items require a different approach. Unlike heavy furniture, fine art doesn't have to weigh much, but it's often chunky. Additionally, you shouldn't allow any risk that can lead to damage. You can avoid all this if you prepare well and understand how best to protect your fine art when moving. Whether you're preparing a piece for moving and storage NYC companies offer or for other occasions, you need to treat it well. Best protection often comes easily when you hire professionals to deal with moving fine art. Still, here's all you should know about protecting your fine art.
What to look out for when trying to prepare your fine art for the move?
Make sure you spend some time researching the best type of protection for your specific piece. Not all fine art pieces require the same care, and some pieces may react to certain materials. Only use materials to wrap and pack your piece if you're sure that's the safest option. Note that packing materials need to both suit your fine art piece and protect it well during transport. If all of this sounds too complicated to take just on yourself, local movers Brooklyn has can help you out. A trained team of professionals can easily wrap up any piece and best protect your fine art when moving.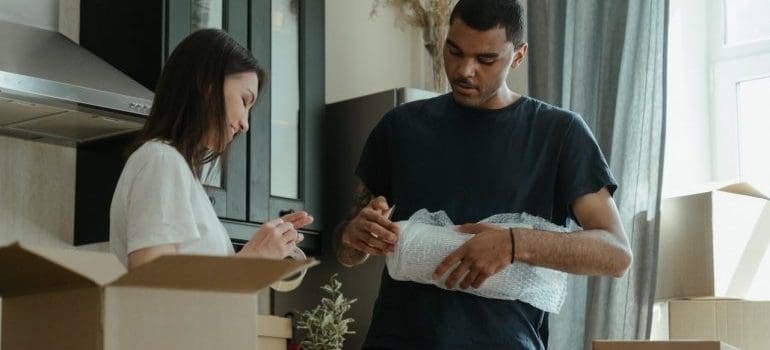 How to best protect your fine art when moving?
Make sure you have the right equipment. Don't attempt to pack your fine art when moving in a hurry by yourself. You can easily make a mistake or forget something, and your concentration won't be on the right level. If you have enough time and the right equipment, that's fine, but also know where to draw the line. When you need to pack in a hurry, the specialized fine art movers NYC offers may be the best choice.
However, if you have enough time and the budget to gather all the resources, here's what you should do. Make sure you get gloves and use them during the whole process. You don't want to leave stains and fingerprints on your fine art. Also, make sure you have enough special tape for art pieces, as well as the cardboard corners and acid-free paper. You can also consider using bubble wrap to add an extra layer of protection. Finally, don't use regular carton boxes to store them, but use specialized firm crates instead.
How to pick a reliable company to protect your fine art when moving?
New York can be hard to navigate in regular circumstances, let alone when you carry valuables. Even more, fine art is not only valuable, but it can also easily suffer damage. When moving such fragile and chunky items, it's best to consult professionals. Hiring their help rules out any potential risk, as movers in Brownsville have much experience with such endeavors.
You can find reliable movers all around NYC, but you should know how to recognize them. One of the best ways is to do your research online and look up the ones with a high rating.  Positive reviews and the price don't always reflect the quality of service, but they offer a good starting knowledge. You should rule out any companies that don't fit into your budget and look for professionals such as movers in Williamsburg to help you out.
While your research online may direct you towards a few potential candidates, you should still make some contact. Asking the company for a quote or discussing solutions with their employees can give you a certain impression. If you like the way they think and approach your relocation, and they fit into your budget, they might be the right ones for you.
What can happen if you hire unreliable movers?
New York City is a large market, and the offer is vast. That's why many people struggle to make the right choice, but investing some time often yields good results. Many things can happen if you hire a shady or unreliable company, and you should know how to spot them.
The most important thing when hiring movers is respecting your budget and your time. A delayed move is often no better than a DIY move, while an overpriced service never leaves anyone satisfied. While these are temporary annoyances, even worse things could happen.
Unskilled movers can try to save on their materials, leading to poor protection of your fine art during transport. Fine art always requires the right equipment and packing materials, or something could get damaged. As fine art is usually unique, any damage is unacceptable. You might be reimbursed for your losses, but no amount is enough when a unique piece gets damaged. If you plan on selling the piece, its value can go down. All of this can be bad for your budget and cause a lot of stress and frustration.
Storing fine art for other occasions
Everybody knows that the space is tight in New York City. That's why many people opt for storage services in one of the many facilities around the city. While it may be unusual to store fine art instead of displaying it, you shouldn't discard this option. Storing your pieces may be the best way to protect your fine art when moving and when renovating your home.
If you hire professionals to prepare your fine art for storage, you can rest assured it will be kept in good condition. Many storage facilities provide climatized spaces where your fine art won't be exposed to extreme temperatures or other weather factors. Don't hesitate to hire help when trying to protect your fine art when moving, renovating, or for other occasions.