Finding a good moving company for your relocation is a hard task. Especially if you have never moved before. Also, you might be worried if you have a lot of fragile and valuable items to move. In the end, you wouldn't want to leave it to amateurs to pack and possibly damage them. Movers NYC are aware of this and will help you with this issue. Here you can read how you can search for a good moving company and pick the right movers in Dumbo. Keep reading to learn more.
Make sure to spend some time searching before you pick the right movers in Dumbo
The thing is, it will take a lot of time to finish everything up and find movers for your move. This is a process that requires some patience and research. And because of that reason, you should begin looking for movers at least a couple of months before your move. It will give you enough time to make a list of potential moving companies you wish to hire. And once you do this, you can compare their services and prices. This will help you pick the right moving company for your upcoming move.
Because of this, you should never rush things. Going steady with this process means that you will have high chances of hiring a good moving company for your move. And if you still have some troubles, there are good movers Dumbo NY that can help you move. With their help, you can complete your relocation without worrying about the safety of your items. Sometimes, it can be really hard to move everything by yourself. Especially when you don't have any prior packing experience. In this case, it is for the best if you get professionals helping you pack and move. This is the best way to properly transport your items without any problems at all.
Ask your friends for a recommendation
This is a very good idea. And if you have friends who recently moved, then perhaps they can give you some recommendations about the moving company you should hire. Ask them how well did their movers handle their relocation. From pricing, packing, moving, and professionalism. Those are some of the most important factors you need to know about a moving company. Sometimes, your friends can give you valuable information that you could use for your future move.
Professionalism is very important for any moving company that wants to thrive. And because of that, many will do their best to organize a relocation that is safe, efficient, and affordable. Therefore, these should be the qualities of good moving companies. Especially when you are moving locally. When you have to transport some valuable items on a local scale, you should always look for good local movers Brooklyn. They are more than ready to complete your move with ease.
Check out the local Facebook groups
Nowadays it is very common to share your experiences online. That means that there will be Facebook groups about moving companies that you can visit and read their experiences. People leave their reviews there and tell how they were treated by a certain company. You can also ask them for recommendations as well. People will gladly tell you who was professional when it comes to moving and who isn't. The reviews you will read there are genuine and people often tell how it is. Not only that, but you will know what you can expect from the moving company you are interested in. Not to mention that you could get your hands on some affordable and cheap packing supplies for your relocation.
Moving reviews can be a good source of information. It can give you an inside look at the moving company you are looking to hire. They will tell you all there is about them. That can be good and it will help you find good movers Brooklyn fast and without any problems. Nothing says easy to move than having professionals at your side.
Avoid companies with big deposits and "hidden agendas"
This is the most important part of our guide. Mostly because here you will find out if you are dealing with a moving company that could scam you out of your money. The thing is when a moving company is asking you for a big deposit before you are moving, chances are, you are dealing with scammers. Once you pay them big enough, they can do whatever they want. Also, the deposit shouldn't be over 1/3 of the overall cost. Asking for more than that is a big red flag.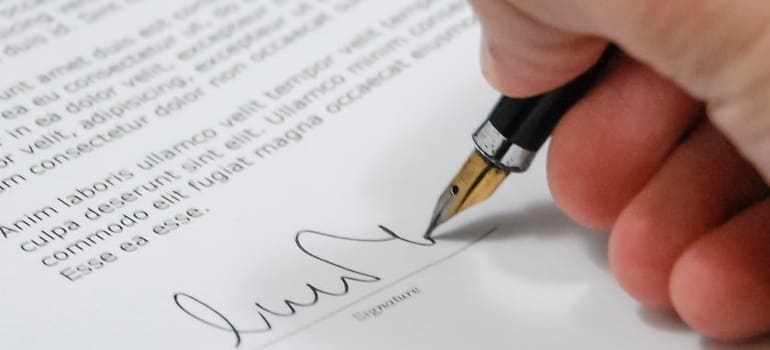 One thing is also important to remember. And that is that you should read the contract carefully. Many fraudulent moving companies will try to scam you out of your money in some hidden fees you overlooked in your contract.  That is why it is very important to know what to look for in a contract before you sign it. Then you will have more than enough information to figure out what to expect from the moving company.
Now that you know how you can pick the right movers in Dumbo, you should head out and look for them. It will be easier now that you know more about it. There are many other tips and tricks you can learn, and you can find them all in our blog. We have a lot of experience when it comes to moving, and we thought we should share it with you. With many of our guidelines you can find online, it will be easy to organize an easy move so you won't have to worry about a thing.