The hardest type of move is a large-scale office move. With so many objects and things to do, there is a lot of stress and factors. Everything is valuable, sensitive equipment, furniture, and on top of that there are even documents that contain important documentation. As such this is not something you should leave to just any moving company. According to our professional movers NYC trusts companies with years of experience as well as good recommendations. But even when you find a good company you still need to map out a large-scale office move!
Start planning on time
When you want to map out a large-scale office move, time is of the essence. All large-scale office moves need a considerable dose of preparation and planning due to all the complexity involved. On average, commercial movers in NYC should be arranged around six months in advance. While some large-scale office moves can need even up to two years of preparation! It is unnecessary to say that it's necessary to give your company a substantial portion of time to prepare for the move.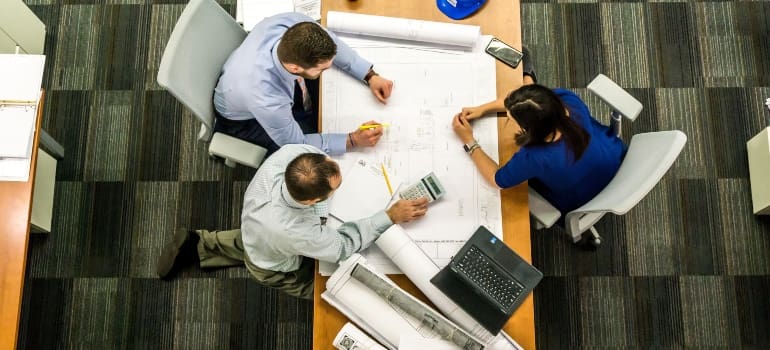 If you haven't started to map out a large-scale office move yet, there are some options you can choose from. The first is to communicate with one of the commercial movers Queens recommends. After talking to them they can start the planning process and designing a moving plan that fits your exact needs. The second choice is to start to map out a large-scale office move on your own. Furthermore, this can last anywhere from 6 months to a year to plan. And this can be overwhelming as well as time-consuming. Particularly when attempting to manage a company at the same time.
Hire Professionals
Even if you don't want to hire people to help you map out a large-scale office move, you will still need to use professional moving services when moving day comes. Even if you believe that a successful move is made out of 90% planning and just 10% delivery. It is still that 10% that can make or break the move. For such a task you can hire one of the commercial movers Manhattan businesses trust, or look for other companies on the market. But do keep in mind that a company people recommend is better than some no-name company no one knows about. When moving a business the last thing we want to do is cut corners on the important things.
When leasing a company you will get many benefits. From items properly packed, safely loaded, and transported, all the way to unloading perfectly. Packing service in NYC has a big role. As companies have numerous items that are quite expensive, or hard to find. So movers and packers do their best in order to make sure they are safe. Of course in case of something really does happen, insurance policies that every reputable moving company has should cover your losses.
Office relocation team
If you prefer to maintain the administration of your office relocation only in the circle of the firm, it's crucial to choose who will be in charge. You can't map out a large-scale office move alone. As a result that this person will operate as the move coordinator. And will be accountable for supervising every element of the relocation. So, it's urgent to pick somebody with remarkable communication, administrative and leadership skills. After you choose the manager, you will still need to choose a couple more members. They will be the ones working under here or him. By splitting tasks and arranging them among the members your moving plan will come a long way.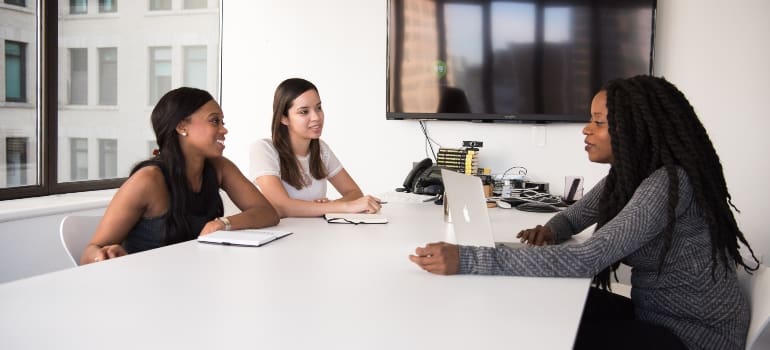 Organize key documents to map out a large-scale office move
One of the most important things when moving a company is to stay organized at all times. And in order to do that when you map out a large-scale office move make a plan for the documents as well. It would be best to go through all of them before the move. This way you can shred the unimportant ones, move the classified ones to a safe location prior to moving, and pack the rest. Although professional packers exist it's best to handle sensitive information like company work, employee information, etc by yourself. You can also choose a couple of trusted employees that can carry out this task for you.
Announce the move
Before you start to map out a large-scale office move you should announce it to everyone. Plan a thorough email, newsletter piece, presentation, or short video to inform workers about the upcoming move. The information should be complete, no matter what type of format you choose. With this, you will need to tell workers everything they require to know. In reality, they themselves are a big part of the move. As they can move their own cubicles(items in them and electronics assigned to them) or help out in some other shape or form. After the announcement give them a few weeks for information to set in, then talk to your employees to get their thoughts.
Make a budget when you map out a large-scale office move
Get funding (if possible make a valid document with the amount of the budget written and stamped) and come up with specific instructions for procedures for conducting all move-related investments. Will you use a business card or will your employees need to submit invoices? As you can't be everywhere choose one person to be in charge of finances. They will need to approve purchases and vendor agreements. But do explain that when faced with certain prices or things they will need to contact you. While you map out a large-scale office move this step will help you imagine everything better.