Brooklyn is a great place for artists and art students. Moving to NYC is a dream for many young, creative people, who are ambitious and eager to learn. Brooklyn has been particularly interesting for art students and there has been a large increase in the artist population in recent years. However, rises in rents and home price, as well as the cost of living in this NYC borough, makes it difficult for them to keep on living and working here after college. Here is our Brooklyn moving guide for art students and tips that can facilitate relocation.
How to find good movers in Brooklyn
The moving market is well developed in New York. There are many reliable and experienced movers Brooklyn that can handle your move and ensure the safe transport of your belongings. However, before you hire a particular company, you need to do thorough research. The first thing you should check is whether the company you plan to hire has a license. If you hire movers that are not licensed, you risk being a victim of a moving scam. There are many fraudulent moving companies that offer lower costs to attract customers. However, they don't offer insurance, have hidden costs, and can damage your things. In addition, make sure your movers have professional equipment and years of experience. NYC moves can be hectic and you need people who know what they should be doing at all times.
Visit specialized moving websites and check companies' reviews and ratings. The company you choose should have a good online reputation and positive customer testimonials, such as Teddy Moving and Storage. Read previously submitted comments and complaints and request several moving estimates. Finally, choose a company that meets all your needs and fits your budget.
Brooklyn moving guide for art students – packing tips
Regardless of whether you plan to rent an apartment or live in a dorm, there are some essentials that every student needs when starting college. In fact, it would be best to make a packing list which will help you stay organized. The list should include all the things you will need when you head off to college. If you plan to live in a dorm, it will probably come furnished so you won't need to transport any furniture. But, bring your bedding, sheets, blankets, pillows, pillowcases, and, if necessary, a mattress topper or pad. It can take up to several weeks to pack all your clothes and cosmetics, so start well in time. Gather packing supplies in advance – moving boxes, bubble wrap, packing paper, tape, scissors, etc. If you are moving art, it might be best to hire experienced fine art movers NYC. You don't want to risk any possible damage, especially when transporting precious art pieces.
If you are an inexperienced mover, you can hire one of full service moving companies NYC has. They will provide quality packing materials, protect and pack your things, label boxes, even help you unpack.
Brooklyn moving guide for art students – how to choose the best neighborhood
Brooklyn has many great neighborhoods that are vibrant, artsy, historic, and fun. So won't have any problem finding the ones you love. But, the biggest issue for students in Brooklyn is the cost of living and notoriously high rents. There are some cheaper options that might be a good choice for art students such as Bedford- Stuyvesant, which is close to major public transport lines. The best option would be to find a roommate and cut expenses in half. Another neighborhood that might be acceptable for art students is Sunset Park. It has a great waterfront location, is close to Manhattan, and attracts creative and artistic people. Neighborhoods that have the highest increase in artist population are Northwest Brooklyn, Park Slope, Brooklyn Heights, and Prospect Heights.
Student life in Brooklyn
Once you find reliable local movers in NYC to handle your relocation and settle in the neighborhood that suits you best, start exploring the borough. Brooklyn has a unique art scene with emerging painters and artists. It is full of galleries and museums. Some of the best Brooklyn galleries you should visit are A.I.R. Gallery in Dumbo, Clearing, Real Fine Arts, and Minus Space.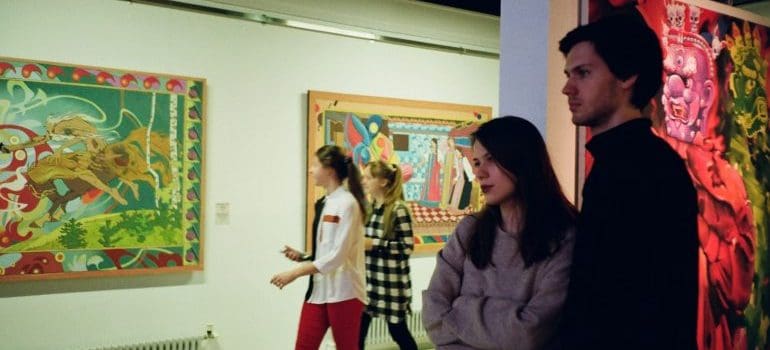 One of the best things you can do in Brooklyn is visiting its incredible museums. The Brooklyn Museum is the third largest museum in NYC and it has notable permanent collections from all over the world. The City Reliquary Museum is a great museum in Williamsburg where you can learn more about the history of the boroughs.
Make sure you visit the Prospect Park Zoo in Brooklyn, home to hundreds of animals and almost 200 different species. The New York Aquarium is the perfect spot for marine lovers with over 266 species of marine life. You will also find some incredible green spaces in the borough, where you can walk, jog, picnic, and enjoy some of the best views of New York City. From Prospect Park and Brooklyn Bridge Park to Sunset Park and Domino Park – you will have no problem finding your green oasis.
Enjoy the whole experience
Living in New York City is an amazing experience. However, if you are an art student moving to Brooklyn, you will soon realize that this is one of the best boroughs you could live in. It is packed with artists, musicians, students, and young professionals. The diversity and energy of this borough are felt in all its neighborhoods. Brooklyn moving guide for art students has hopefully helped you choose the area that suits you best, organize a successful move, and create a list of all the wonderful places you should visit in Brooklyn.