Choosing where to live in NYC is not exactly easy. It's not because NYC doesn't have good options, but just the opposite. NYC is huge with over 300 neighborhoods. Finding one that suits your needs can be a challenge. You can start your search by selecting one borough first. The most famous borough in NYC got to be Manhattan. For this reason, most people decide to move to Manhattan with professional movers NYC. However, every borough has its pros and cons and Manhattan is not an exception. After living in Manhattan for a while, you might come to see that it's not the best place for you. Luckily, you have other four boroughs to consider. You should definitely focus on Brooklyn next. Here are a few reasons why people move from Manhattan to Brooklyn. 
What are the most common reasons people move from Manhattan to Brooklyn? 
As you already know, NYC is made up of five boroughs: Manhattan, Brooklyn, The Bronx, Queens, and Staten Island. Every borough is popular for multiple reasons. However, Manhattan will certainly take first place in a popularity contest. There must be good reasons why moving companies Manhattan are busy almost every year. However, Manhattan might not be the ideal place for everyone. Manhattan is known for its fast lifestyle. It's a culture, economy, and finance center not just in NYC but in the world. Also, many famous spots and buildings are located in Manhattan such as Broadway and Times Square. Brooklyn also has so much to offer that is equally or even better than Manhattan. There are many reasons why people choose to move to Brooklyn from Manhattan, but the most common ones are the following: 
Affordably 

Lifestyle 

Housing options 

Entertainment options 

Sense of community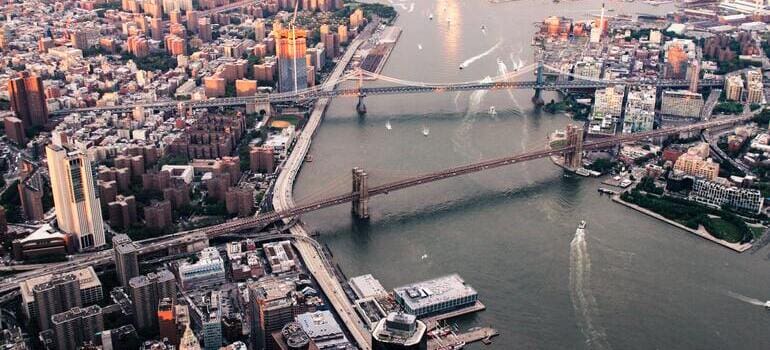 Is Brooklyn affordable? 
Affordability was for the longest time the main reason for moving to Brooklyn from Manhattan. Living in Manhattan presents a prestige that not many people can afford. However, as Brooklyn's popularity is on the rise, so are the living costs. The gap in living costs between Manhattan and Brooklyn used to be very notable, but nowadays it's almost non-existent. But, there are still many more affordable housing options in Brooklyn than in Manhattan. The median rent price in Manhattan is around $4000 and in Brooklyn is around $2500. A $1500 difference is still enough reason to move to Brooklyn with moving companies Brooklyn. Additionally, living costs are about 9% less in Brooklyn than in Manhattan. According to some experts, you can live comfortably in Brooklyn with a salary of $6000 while you will need another $2000 to do the same in Manhattan.  
The difference in housing options  
Housing options in both boroughs are similar. You can find anything from studio apartments to family homes. It all depends on the neighborhood rather than the borough. However, what is the major difference is the price of course. The price difference is not that obvious if you want to rent a studio or one-room apartment. The median rent for a studio apartment in Manhattan is around $2800 while in Brooklyn is around $2300. The difference is not large, but still present. However, the real difference can be seen in rental prices of 3 and more-room apartments. For example, the median rent for a 5-room apartment in Manhattan is around $9000. The same apartment in Brooklyn costs around $4500. For this reason, many families with kids choose to move to Brooklyn with residential movers Brooklyn, while most singles choose Manhattan.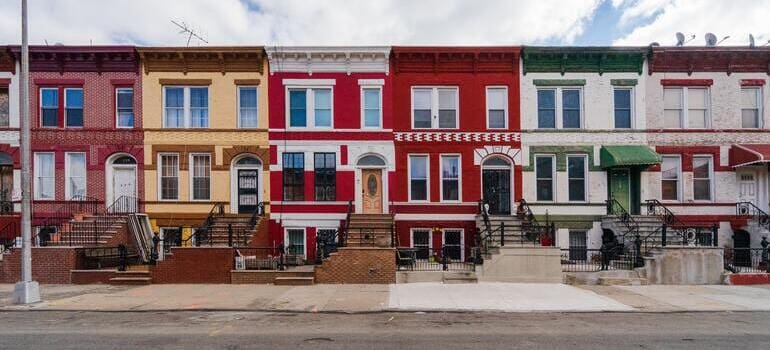 The sense of community is stronger in Brooklyn 
The lifestyle in Manhattan is fast-paced. It's certainly very attractive for young people who are just moving to NYC with Manhattan residential movers. However, the sense of community is not as strong as in Brooklyn. Your only relationship with your neighbors will probably be just a few polite greetings in the passing. On the other hand, the atmosphere in Brooklyn is completely different. Neighborhoods in Brooklyn are more friendly in general. What's even more interesting is that all neighborhoods have some distinct features such as history or ethnicity. Brooklyn has 77 neighborhoods in total. The best ones are Williamsburg, Carroll Gardens, Prospect Heights, Bay Ridge, Brooklyn Heights, etc. If you are looking for the safest neighborhood in Brooklyn, then Bay Ridge is the right choice for you. Additionally, all of these neighborhoods have low crime rates and they are ideal for raising children.  
Entertainment in Brooklyn is equally good as in Manhattan 
Who would have thought that Brooklyn can be interesting as Manhattan? Manhattan entertainment is more geared toward tourists and high-class entertainment. The entertainment in Brooklyn is a little bit different than in Manhattan. It's a known fact that Brooklyn is a real paradise for all food lovers. The food scene is very diverse here and it matches the ethnic diversity of this borough. However, amazing gastronomy is not the only form of entertainment in Brooklyn. Some of the best things to do in Brooklyn are visiting Brooklyn Botanic Garden, shopping at Industry City, and many more. Another benefit of living in Brooklyn is the beautiful view. While Manhattan has amazing views, you can hardly see them from tall buildings. Brooklyn doesn't have tall buildings like Manhattan and you will actually have some sunlight during the day in your home.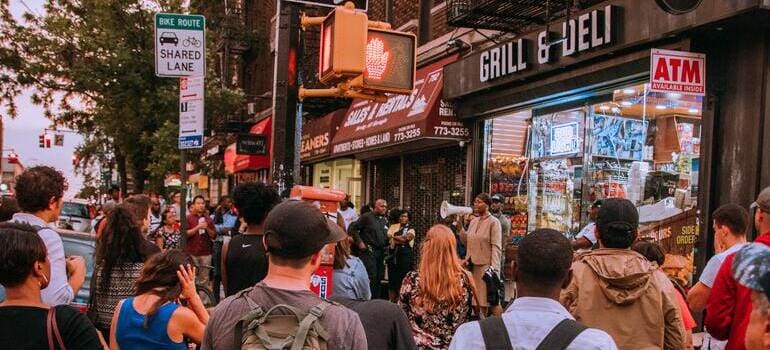 How to make a decision? 
As you can see, there are many reasons why people move from Manhattan to Brooklyn. The most common one is still affordability. However, living in Brooklyn has many more benefits than cheaper rent. Manhattan is not exactly an ideal place for raising kids with a fast-paced lifestyle and non-stop crowd. For this reason, Brooklyn with a relaxed lifestyle is better suited for families or people who are looking to escape the crowds. Additionally, moving to Brooklyn from Manhattan won't be a hard relocation to prepare for. The important thing is to find a reliable moving company and choose a good moving date.