You're new to Manhattan and want to see what it has to offer? Well, you'll be happy to know that when it comes to restaurants, there is an endless number to choose from. We'd like to tell you about some of the best Manhattan restaurants we've experienced. Of course, it always depends on what kind of food you are looking for, but we at Teddy Moving and Storage as one of the best moving companies NYC will keep it diverse. Now, let's dig in.
Kochi is a famous restourant of Korean cuisine
First, let's start off with Kochi, a famous Korean restaurant in Manhattan. Kochi could easily become your favorite place ever and leave you wanting more and more. If you decide to visit Kochi we recommend you ask for their 9-course tasting menu. We promise you that that will be the best-spent 75$ in your life. The tasting menu includes baby-blow fish tempura, slow-cooked pork tenderloin, and crispy shrimp among others. As soon as your local movers NYC finish your moving process, go treat yourself to some delicious Korean food and relaxation.
Contento is one of the best Manhattan restaurants according to many
Contento is a wine bar with a Peruvian-rooted food menu and one of the best Manhattan restaurants. The space is big and welcoming to all. Their aim is to have inclusive hospitality and their space is accessible to everyone, including those who use wheelchairs. And it was designed this way on purpose! Contento has a variety of wines to choose from, at different price points of course. If you decide to visit Contento, we highly recommend trying some of their wine, even if wine isn't your usual go-to. Contento is a bit more high-end than a usual restaurant, so things you can expect on the menu include octopus with black chimichurri or duck liver mousse with purple corn focaccia.
Crown Shy is know for its atmosphere
Crown Shy has that chill atmosphere we all love to see in restaurants. You feel welcome and calm, you can enjoy your time without anyone staring at you or causing you negative energy. Expect to hear popular hip-hop jams throughout the night. The concept of Crown Shy is a neighborhood seasonal restaurant elevated by fine dining. Which is the exact right combination for most of us. As far as the cuisine goes, Crown Shy is rooted in European technique, but it is inspired by many different cultures. What they strive to give us is the taste of childhood, traveling, and all kinds of diverse cuisines and that's exactly why they are one of the best Manhattan restaurants.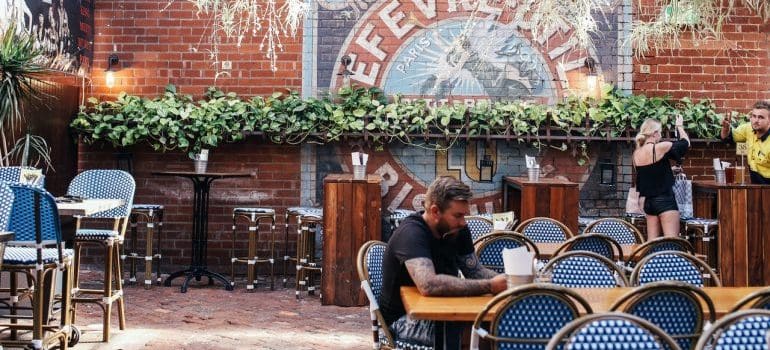 Wau offers exquisite Malaysan cuisine
The name Wau means a kind of intricate Malaysian kite that is usually decorated with beautiful floral. It is used and flown in celebration of a bountiful harvest. Wau is a symbol of grace, beauty, and good fortune. When the kite would show up in the sky, it presented an opportunity for the farmers to take a little break and look at the lovely hand-made designs. This restaurant aims to offer a similar experience to that to its guests. Basically, if you're interested in Malaysian cuisine and culture, this is the perfect place for you to get to know both of those things. 
Rezdôra has the best tasting menus
Rezdôra offers one of the best, if not the best, tasting menus. They offer Italian cuisine and all of their pasta is handmade and fresh, and always perfectly prepared. When it comes to Rezdôra, you should consider reserving a table in advance. It tends to be very hard to get into, which is just testimony to how sought-after it is. So, trust us, it is worth the visit. Your local movers Manhattan would most likely recommend this restaurant to anyone new entering NYC and Manhattan.
All'Antico Vinaio is another Italian restaurant on the list
As one of the best moving companies Manhattan, we'd like to talk about the next best Manhattan restaurant on our list – All'Antico Vinaio. Another Italian restaurant that just had to be named. They are widely known for their square, stuffed sandwiches are creamy, cheesy, meaty delights. Also, they don't have a seating area. It's one of those places where you buy what you want and continue walking down the street. You can find it near Times Square, and you can finally become a citizen of New York City once you've had this amazing sandwich.
Sushi Nakazawa is your destination if you love sushi
For lovers of sushi, there is no better place than Sushi Nakazawa. We all know how expensive sushi can get, and all considering, Sushi Nakazawa isn't as overpriced as it can seem to some. You can book a twenty-course tasting menu for $120. It is a lot of money, but for twenty courses? We think it is completely worth it. Nakazawa's amazing pairing of sake with the tasting menu is an additional $90. Which is, again, a pretty reasonable price when you compare to different sushi places. Sushi Nakazawa isn't a once-weekly type of thing. But it is a good place to splurge a bit on yourself and treat yourself. You deserve it.
Random Access is known for their original recipies
Random Access is a Thai infusion restaurant that opened recently. Their goal is to make Thai food that would be enjoyable to the NYC palette. They, of course, don't change all of the dishes. If you're interested in trying authentic Thai cuisine, they offer certain original recipe meals, just ask them! Things you can expect on the menu range from your usual tom yum ramen, beef noodle soup, and similar all the way to crab curry mac and cheese and fried chicken with coconut milk waffles. So, really there is a little something for everyone to find.
These are some of our favorite restaurants, or rather some of the best Manhattan restaurants according to our taste. We hope you will give some of the restaurants a chance when you arrive in Manhattan and start your journey in a new city.