Packing is complicated and strenuous in every possible sense. Still, even here there are differences. When it comes to your kitchen, the task gets even harder. From kitchen cabinets, and big and small appliances, to dishes and silverware. Not to mention certain food items. Thus, you should have a lot of things on your mind. Then, prepare well and pack your kitchen like a true professional. Also, rely on the help of long distance movers NYC. What truly matters is to protect your kitchen items properly.
Plan well the steps to pack your kitchen with utmost care
As seen a number of times, nothing can be done without a careful plan. Hence, start from planning. Take into account even small details. Also, make sure to contact residential movers NYC. Moreover, decide whether you'll pack on your own. After all, professional movers can do that meticulously guaranteeing the safety of your possessions. It all depends on your budget. Still, if your budget doesn't allow it, our advice will be helpful.
Start from decluttering
First of all, leave aside the items you no longer need. There's no reason to pack everything. Save money and time. Also, you surely have something that no longer works or you plan to replace it. Only pack the essentials. Due to the significant amount of time needed for preparing kitchen stuff for transport, start a few weeks earlier. Pack the things you rarely use earlier. Pack essential things last. For instance, pots, plates, forks, knives are required until the very end.
Make sure to find adequate packing materials
By all means, pay special attention to acquiring adequate packing materials. After all, kitchen items are quite fragile. Hence, collect only the best supplies.
cardboard boxes

plastic bags

packing paper

packing peanuts

bubble wrap

permanent markers

packing tape

twist ties
Furthermore, we must mention the significance of using the packing services of Teddy Moving and Storage NYC. Professional movers will provide one of the best packing supplies. At the same time, you'll get the best materials and the best support.
Get appropriate cardboard boxes
The size as well as the quality matters. As for the sizes, get different shapes and sizes of moving boxes. After all, kitchen inventory is diverse. Thus, you need a variety of distinct boxes. Get large, medium, and small ones. Also, use special boxes for the dishes. Moreover, dishes, glasses, and silverware require special care. Hence, you can get heavy-duty boxes. Their thick walls are perfect for sensitive items. However, we advise you to check if you still keep the original boxes. It would be the perfect solution. On the other hand, use the boxes close to the actual size of the appliances. What matters is to diminish the movement inside the box.
Use an extra layer of protection with certain materials
Wrap the items for better protection. Use packing paper. Also, fill in the gaps to decrease movement inside the boxes. This can be done with the help of paper, bubble wrap, foam, and packing peanuts. In case you have no such things, use dish towels. They can serve as excellent protection. Still, let's not forget to put layers of protection on the bottom of the boxes. Also, put these layers of protection on the top of the items before sealing the boxes.
Sealing and labeling are crucial parts of packing
Finally, seal the boxes using packing tape. Also, you may use twisting ties. Moreover, don't forget to label the boxes. It's crucial to know the content of all boxes. The staff of the interstate movers NYC will be grateful since they'll handle your things much easier knowing what's inside the boxes. Moreover, unpacking will be less problematic when all the boxes are marked properly.
Pack kitchen appliances meticulously
As already mentioned, use original boxes if you have any. Especially with large appliances such as fridges, stoves, and dishwashers. On the other hand, use large or medium boxes. Smaller appliances would be easier to pack. Still, check instruction manuals in advance. If possible disassemble the appliances. However, place everything together in the same box. Don't risk losing any parts. Moreover, it's crucial to clean the appliances before packing.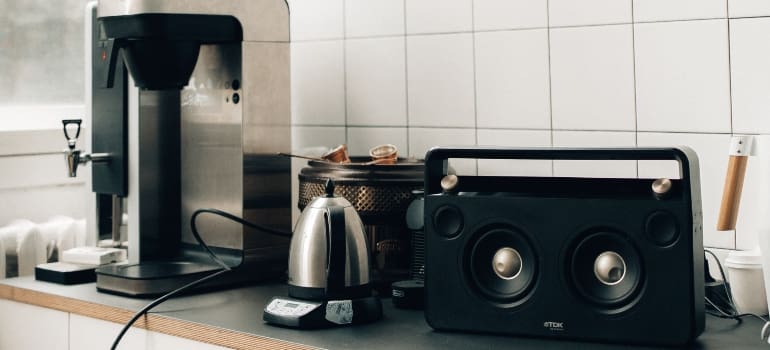 Are you transporting kitchen cabinets as well?
In case you plan to use your own cabinets, then you have more things to do when packing your kitchen. Start by removing all the things from the cabinets. Pack everything immediately in the boxes. After finishing with the packing of your kitchen appliances, food, and other things, dedicate your time to cabinets. Clean them thoroughly first while the kitchen cabinets are still attached to the walls. Use a mixture of dish soap and water. Make sure they're completely dry before anything else. Then start removing drawers, doors, and shelves. We can't say it is too difficult. Still, it would be excellent to have some kind of help and support.
Pack your kitchen cabinets properly in the boxes. Also, use blankets, sheets, and bubble wraps to protect the cabinets. After all, their protection is of great importance. Especially if you plan on using them in your new home.
Prepare well to pack and transport your kitchen safely
All in all, be prepared to devote your time to the packing process. Make a detailed plan. Stay organized. Collect all the packing supplies you can get. Also, make sure you pack your kitchen taking care of everything. The ultimate goal is the protection and safe transport of your kitchen stuff. In case you're not up to all this, use the services of professional movers. While you're handling other chores, their trained experts will pack, load, and transport your items carefully. Certainly, you'll enjoy your kitchen and the preparation of your favorite meals in your new home.