When you decide to move to a new place there are some things you will need to be ready for. There are small or big culture shocks wherever you go. Especially after moving from a small city into a huge metropolis. Coming to NYC is a big change no matter where you are coming from. As our team at Teddy Moving and Storage shares the burdens of moving with you, we will also try and explain some of the New York neighborhood acronyms and what they mean.
What are acronyms?
People that come to NYC can sometimes be caught off guard when hearing people talk about TriBeCa, SoHo, DUMBO, NoLIta, FiDi, and NoMad. Of course, this is not something that is surprising. Every city has certain acronyms that people use in day-to-day life. And learning New York neighborhood acronyms is not something hard to learn so relax. To explain it easily acronyms were made by combining letters from a sentence(usually the first letter of each word) and making one word from them.
There are many forms of acronyms. Some are even world-spread and used by millions of people. Some examples are "lol", "omg", "asap", and so on. But some are not as widespread and known. As they are only used in specific areas. Even our movers in Manhattan know the basic and most used New York neighborhood acronyms. So what are some of them and what do they mean?
SoHo
DUMBO
NoLIta
FiDi
TriBeCa
NoMad
 SoHo
Soho is one of the most used New York neighborhood acronyms. It stands for "South of Houston Street". Once a famous neighborhood in the 1970 and 1980, it grew and evolved into the huge shopping district that it's now. Although over time the theme of the area became high-end shopping. Here you will find many brands that became the center of the fashion industry, as well as influential independent designers. This may not be everyone's cup of the but for people that enjoy this type of thing, this is like heaven. SoHo Movers actually help many people that were charmed by the glitter and gold.
DUMBO
Down Under the Manhattan Bridge Overpass or just simply DUMBO. Walking into these areas will make you speechless. Covered in art and beautiful building left from the industrial era it shows you the spirit of its residents. This is a place that is art oriented. So it's far surprising that instead of the old factories it is covered by many galleries. Of course, there are also many bookshops, boutiques, and co-working spaces where startups blossom. Tourists can walk over the Brooklyn Bridge, look at beautiful views and so much more. Our movers in Dumbo NY, are used to people falling in love with this stunning area.
NoLIta
NoLIta movers can tell you a lot about New York neighborhood acronyms. North of Little Italy or NoLIta can at first look similar to its neighbors SoHo and Little Italy. But it won't take you long to notice its unique charm. The cafes are cozy, the boutiques stylish and the bar scene is burgeoning. As our NoLIta movers can tell you this Manhattan area offers you many beautiful adventures. Sit streetside in some of the well-known restaurants, or cafes. Explore independent designer shops. Or visit the local bars.
FiDi
FiDi is a New York neighborhood acronym for the Financial District. You have probably already heard of it. This is the area of NYC that's frequently mentioned in movies, books, series, and so on. Occupying 290 acres the edge of Battery Park up to the Brooklyn Bridge. In it are famous places like Wall Street and the World Trade Center. Actually, this is the oldest developed part of NYC. FiDi is the heart of all NYC businesses. In it, there are hundreds of office spaces, big company headquarters, law firms and so much more.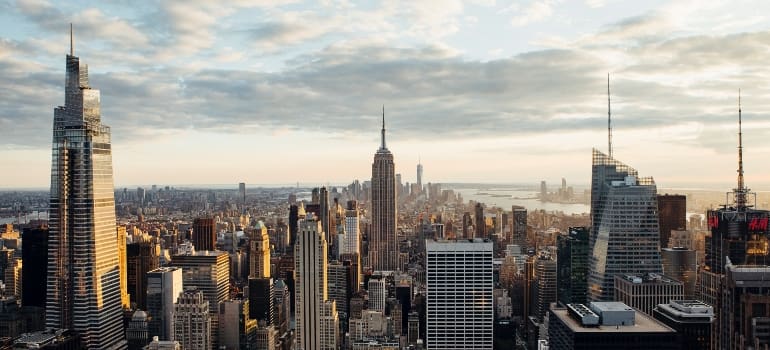 TriBeCa
One of the New York neighborhood acronyms you will probably hear is TriBeCa. It stands for "Triangle Below Canal." This is a location in NYC or to be more specific in Manhattan. Or for people that need it to be even more detailed, this highly demanded location is located between Canal Street (north) West Street (east), Broadway (west), and Vesey Street (south). Many famous stars call this location their home. And of course, due to good schools, location, as well as parks and views of the Hudson River many non-famous but rich people, live here too. Many famous and good restaurants in TriBeCa, bars, and other kinds of activities keep the residents as well as tourists quite happy and entertained.
NoMad
North of Madison Square Park or simply NoMad is an area spanning approximately from Sixth to Lexington Avenues, from 23rd to 30th Streets. This is the heart of Manhattan. Existed long before some now famous areas and avenues even got their name. With an old money charm and beautiful architecture, it attracts many people from all around the world. Cozy bars with great whiskey, leather seats in hand restaurants, and the smell of tobacco. It is definitely a place worth seeing.
New York neighborhood acronyms can be confusing
New York neighborhood acronyms can be confusing at first. Especially if you go there without even knowing about them. But it's not the end of the world. They are easy to learn and the areas are easy to remember. All of them have different charms and attractions to offer. The only thing they have in common is the number of tourists interested in seeing them and experiencing the unique lifestyles they offer. NYC is big, and there are many more places worth seeing, as well as acronyms that might be mentioned. But don't be discouraged as you will learn them fast.