There is nothing more important in life than health. The biggest threat to health nowadays is stress. Stress is the main cause or contributor to many serious illnesses. However, health is not a priority to many people due to the fast lifestyle. Now, feeling stressed over a longer period of time can cause serious chronic illnesses while acute stress usually affects immunity. The first signs of a weakened immune system are flu, loss of appetite, etc. Moving usually is a stressful experience for many people. It's an acute form of stress and it's not uncommon to get sick after relocation. Luckily, there are ways to stay healthy during relocation. The most important one is to hire one of the best moving and storage NYC companies. Additionally, there are other steps you can take to ensure that your health stays the same and not to get sick.
What to do to stay healthy during relocation?
Preparing for a relocation is rarely easy. It often requires a lot of work, planning, organizing, and attention. Additionally, relocation gets even more complicated if you are working full-time, and have kids or pets. Some relocation requires more preparation and work than others. For example, it's not the same if you are moving long-distance or locally. For this reason, it's important to pick the right moving service for your relocation. If you are moving long-distance, then you must hire long distance movers NYC. If you are moving local movers, then your choice should be local professional movers. When you choose the right moving service, you won't feel pressure or stress as you will know that your relocation will be taken care of. Other ways to be healthy during moving are the following:
Start early
Plan carefully
Hire a moving company
Eat healthy food
Drink enough water
Get enough sleep
When should you start preparing for your relocation?
There isn't a strict rule on when you should start preparing for your relocation. It will depend on many factors such as the size of your belongings, free time, distance, etc. Usually, you will need about a month or two for moving preparation. If you have more time to prepare, you will feel more relaxed and less stressed. However, sometimes plans don't go as you want. You might find out that you have to move just in a few days. This is when it's hard to keep stress levels at normal and focus on your health. Luckily, you can hire last minute movers NYC. The worst thing you can do is to start panicking and stressing over something you don't have control over. As you can see, there is a solution to any problem, you just need to find it.
There are many benefits of hiring a moving company
If it's your goal to have a nice and easy relocation, then you should hire residential movers NYC. Additionally, there are many benefits of hiring professional movers than just easy relocation. First, you will have more time to take care of your health and focus on yourself and your family. Also, you will have more time to finish other moving-related tasks such as documents. The next benefit is less chance of possible injuries. Moving is not simple as it might seem to some people. Certain knowledge and experience are needed for a successful relocation without injuries and damage. Professional movers know how to pack your items so that they don't get damaged. Additionally, they can take care of all moving tasks without getting injured which is not the case if you try to do it by yourself. You will likely injure yourself or damage your items.
You must get enough sleep
Everyone should get at least 8h of sleep every night. However, this is mission impossible for many people in their daily life. For this reason, if you try preparing for relocation by yourself, you won't have time to sleep even a few hours. It is not possible to be healthy without sleeping enough and regularly. Therefore, you should get a packing service NYC to pack all your belongings so that you will have them for yourself. You won't have to spend many nights trying to pack all the items. With a lack of sleep, you won't be able to focus on moving preparation and your daily life. Feeling tired all the time will be your constant mood. However, if you get enough sleep, you will have more energy to finish all required tasks and stay healthy at the same time.
What should you eat?
Besides getting enough sleep, food and drinks have huge effects on your health. For this reason, you should try to eat healthily during your relocation. Sure, you might not have enough time to cook every day but try to avoid eating fast food and a lot of sweets. It's also bad to skip eating regularly just as same as eating high-calorie food. Your diet should be focused on vegetables and fruit. Additionally, you should prepare healthy snacks to have beside you while you are packing or doing other moving-related tasks. The most common healthy snacks are mixed nuts, dark chocolate, almonds, chia pudding, etc. Of course, one chocolate or ice cream is not a problem as long as you don't overdo it. Drinking a lot of water is also very important for your health. Coffee doesn't replace water and drinking a couple of cups of coffee daily is not good.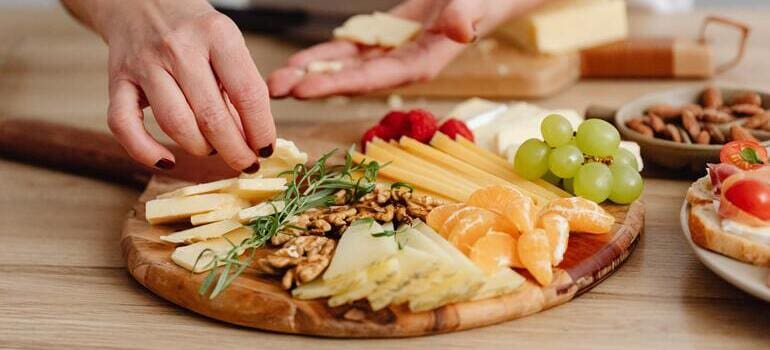 Health is the most important
While trying to have a successful relocation is important, the number one priority is to stay healthy during relocation. You can achieve this if you hire a good moving company and eat healthy food. Of course, light exercise is also advisable. It's easy to say not to worry much and to relax, but the reality is a little bit different. Therefore, with a good plan and professional movers, you will be able to have a nice relocation while staying healthy. Getting sick only after a few days of your relocation is not an option.