A lot of people make a common mistake when they have to relocate. The majority of them assume that the price is not correct. They forget to calculate everything, and the price, in the end, seems much higher. There are a lot of movers NYC has, and your goal is probably to find affordable and reliable ones. And to be able to do that, you will have to calculate quite a lot. Make sure that you consider all of the long-distance moving costs. Only this way you will have your proper calculations and you will know what movers you should hire. Take your time and don't rush to finish this in a couple of days. You want to do things properly, not quickly.
There are plenty of long-distance moving costs, and you have to know from where you need to start
Every beginning can be complicated. And that can stress out many people. You should be prepared, so you can avoid these situations. It will be much easier to focus on the relocation and finding proper movers Manhattan has. Since this is the case, and your main concern is the long-distance moving costs, you have to start from your own budget. You can't complain about the price of the moving services if you don't even know how much you can afford. So, before hopping on to making decisions, already do your calculations.
Learn how to calculate your own budget before you start calculating the long-distance moving costs
As you know, to be able to figure out the moving costs and requirements, you need to know your own budget. Well, moving can be quite pricey, and you must expect it from the very start. So the sooner you start saving money for this relocation, the better. Now, as for the calculations for the budget, it is very easy. Firstly, you want to start by realizing where you have money. Gather it all up from bank accounts, credit or debit cards, your safety deposit boxes, and so on. Now, from the entire amount, make sure that you remove the money that you want to have when you relocate. At least in the beginning until you find a safe job and salary. The rest is what you have for the relocation.
When the relocation is a long-distance one you should get a proper moving estimate
Before you get a proposal for the price of your relocation, discover how should your long distance movers NYC charge you. Normally, when a relocation is a short one, in the nearby area, it is different from the long-distance move. Since you are still relocating close, they will charge you upon the feet or miles from your previous home to your new one. And maybe some more things can come with that, but it really depends on the movers.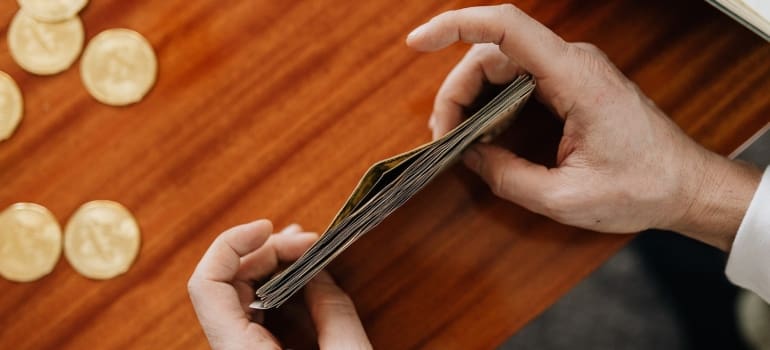 And the long-distance move is different. It wouldn't be fair enough, since it can be a very long one. So, for this type of relocation, your movers will charge you according to your boxes. And by boxes mean by the weight of them. This basically means that the heavier the boxes are, the relocation would be more expensive. And here comes the fact that you should never relocate your entire home with you. You will buy new things eventually. And you should have more free space around your new home.
Another one of the long-distance moving costs that you should consider is related to packing
For every relocation, packing is the main part of it. And of course, it is the most time-consuming one. With that being said, you must know that some of the things about packing will cost you. For instance, if you take the packing service NYC movers provide, that can cost quite a lot. But it can save you a lot of your time. And you can spend it on other important things. However, if you decide to do it on your own, you will still have some of the costs. But much less.
The majority of it will go on the moving and packing supplies. For sure, you can be completely sustainable and you can try to improvise and use things around your home as some of the alternatives for packing. This will help the planet, and you will save some money. But on the other hand, you can find those materials to buy. Cardboard or plastic boxes, duct and scotch tape, bubble wraps, and so on. You won't spend much on it, but it is important that you are aware of these additional fees on the way.
Don't forget that you still have to purchase a new home before you even arrive there
Not everyone, but quite a lot of people simply forget the main things about the moving. And that is, to find a new place. They all focus on getting Manhattan long distance movers, or the packing, that they forget some more important things. And this doesn't necessarily mean that they forget to purchase the new place. They simply forget to add the costs to the list. And afterward, they don't know where quite a lot of money went. In some cases, people blame it on the movers.
So before you relocate, and before you get your movers, make sure that you add this cost to your list of expenses. Maybe it is not included in the relocation itself, but it is quite a big fee, and more importantly, the main one. Without purchasing a new place, you wouldn't be able to relocate at all. Keep that in mind.
Once you arrive at your new place, you might end up with more costs
Not everything is about long-distance moving costs. Something else is also included once you actually settle down. Of course, this depends on the furniture and other elements that you are taking with you. If you don't want to purchase anything new. However, even if you are using the old furniture for a new home, you will at least end up buying new decorations. Or you will have some maintaining to do, painting the walls, and so on. In other words, you will definitely have more costs that are waiting for you, upon your arrival. So prepare yourself.