After the heat have passed, and the beautiful fall has come- you decided to move to Manhattan! One would say that the period from November to December is one of the most beautiful in the whole of NYC. This was the perfect time to choose some of the last minute movers NYC has to offer, as holidays are getting closer and closer. When you think of Thanksgiving, you think of a turkey diner, baking pies, and watching football. There are also fun ways to spend it even if you didn't have much time to plan it. Staying home and watching a good movie with friends and family, or visiting a restaurant at Rockefeller Center- there's plenty to choose from! Keep reading as we gather a couple of fun last-minute ideas on spending your first Thanksgiving in Manhattan.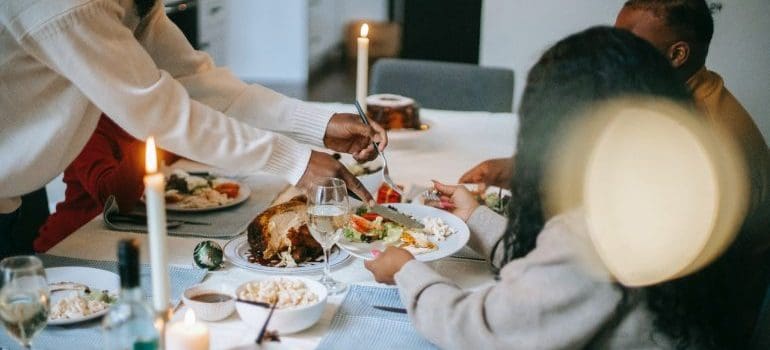 Things to do in Manhattan for Thanksgiving
If you're staying in NYC this year for Thanksgiving, don't worry, it has plenty of perks! Check out our suggested agenda to plan your time off with the best activities before and after your turkey dinner.
The Bank of America Winter Village at Bryant Park
Spend a day at

Macy's Thanksgiving Day Parade

for your first Thanksgiving in Manhattan
Markets and fairs
Instead of traveling, visit iconic ice-skating venues like The Rink at Rockefeller Center and enjoy the city during the holidays. The 17,000-square-foot ice rink is free of charge if you bring your own skates. Take in its incredible holiday lights displays. Additionally, you can get into the Christmas spirit while shopping or strolling through NYC's winter wonderlands like Bryant Park Winter Village. You will also find 60 and more food and shopping kiosks where you can have mulled vine to warm up. Macy's Thanksgiving Day Parade filled with floats, balloons, and cheerleaders is one of the best NYC festivities. Once the local movers NYC settle you in, don't forget to check out Macy's holiday windows on the Broadway side of the Herald Square.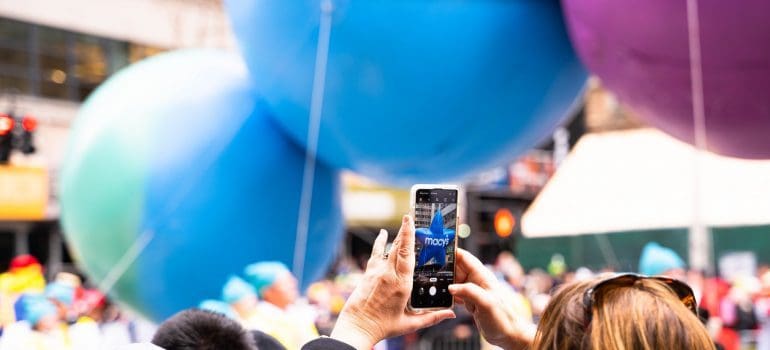 Restaurants
From overcooked turkeys and backhanded compliments to loud toasts and overwrought speeches, first Thanksgiving is usually a big deal. There are so many reasons why you might not want to deal with it this year, at least not by yourself. Even if you chose some of the greatest movers Manhattan provided, and they brought all your pots and pans, you might want to order a pizza and turn on the blinds. On the other hand, if you want help with a meal at home or simply want to go out for the evening, NYC restaurants are offering takeout and on-site specials on wine, desserts, and everything in between.
Out of many restaurants in New York City, we recommend Rolo's in Ridgewood in Queens. A takeout meal for four people can be picked up on the day before Thanksgiving. Charlie Bird has everything you need for Thanksgiving. This Soho American/Italian spot's $300 meal kit includes a few different vegetable sides, as well as a turkey breast roulade and baked lasagna with turkey Bolognese. If you want an American-produced meal, stop by Prospect Lefferts Gardens. They also offer ready-to-roast turkeys, but this one will have to be preordered.
Last-minute ideas for Thanksgiving shopping
Black Friday is the biggest shopping day of the year in New York after Thanksgiving. While Manhattan residential movers handled your relocation, you might have forgotten presents for the upcoming holidays. You've seen the Macy's Thanksgiving Day Parade, eaten a delicious turkey dinner, so there's only one thing left to do this holiday weekend! You need to go shopping and explore NYC stores and boutiques. It is likely that most stores will follow COVID-19 safety protocols this year, such as limiting the number of people allowed in the building at one time and requiring masks but still expecting lots of shoppers.
Fifth Avenue's largest high-end department store, Bloomingdale's, will open at 7 am on Black Friday and stay open until 10 pm. We recommend that you stop by Magnolia Bakery and treat yourself to their famous banana pudding. You can also visit the shops at Columbus Circle, such as H&M, J. Crew, Sugarfina, and more. If some of your friends and family are design fans, make sure to visit MoMA's design store. Sculptural vases, clocks, kitchenware, and gadgets are among the impressive selection of contemporary furnishings and gifts. They will offer plenty of discounts on Black Friday, so make sure to check them out!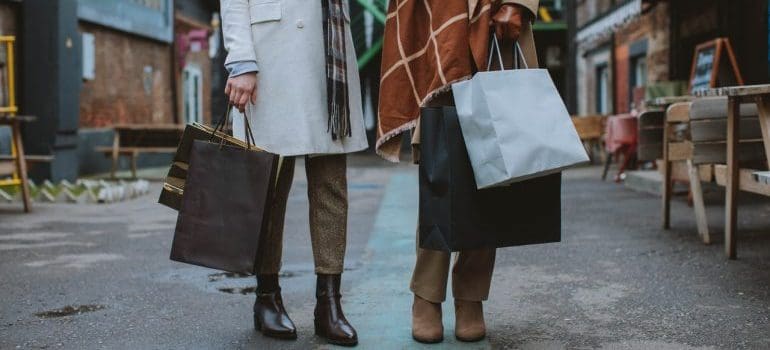 Staying home for first Thanksgiving in Manhattan
If you decided to stay home and spend it in your PJ's- go for it! Invite family and friends and have fun. If you chose one of the most reliable moving companies NYC has to offer, you can rest assured that your TV arrived sound and safe, so you guys can sit back and relax watching Thanksgiving movies. You have to admit, they are not as nearly as known and good as Christmas movies. But you can tune in to Woody Allen comedies like Hannah and Her Sisters, or maybe have a TV marathon of Friends. If you are more of a romantic type, check out You Got Mail with Meg Ryan and Tom Hanks.
You decided to host your first Thanksgiving in Manhattan, but you can also have your guest bring a dish of their own. This will create diversity and make your evening fun. As this is the start of the Christmas season, you can also exchange ornaments and ideas for decoration. Also, don't save that bubbly just for New Year's Eve, pop a glass of champagne to celebrate your move and the upcoming holidays. Once the dinner is served, don't forget to say your thanks. Once the morning comes, treat yourself with some pie leftovers, it's a holiday after all.