Moving can be a really difficult task. Not to mention when you are about to plan an interstate relocation. That is something you need to plan if you want to avoid any troubles. The very first thing you need to do is to pick a good interstate moving company. But, this complicated task is not something you can do before you compare moving quotes for an interstate move. That is why Teddy Moving and Storage is here to help you out. With your guide, you will be able to properly do this and plan your move with ease.
What to do before you compare moving quotes for an interstate move?
Well, many factors will dictate the price of your move. That is something we will tell you more about later. But for now, there are some things you need to do first before you compare the prices. And that is to make a list of interstate moving companies that you are interested in hiring. Some of them you will know from recommendations, ads, or other sources. But, it is important to make a list first. That list should include things like:
What are the previous experiences of the said moving company
Reading their reviews
Do they have proper licenses and permits
Are there any legal issues they are dealing with right now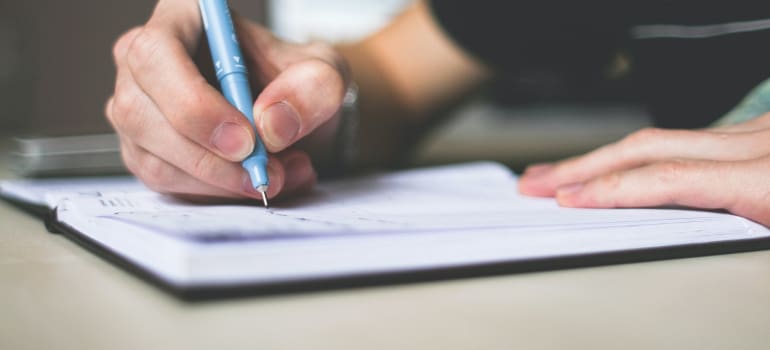 These are some of the most important things you need to note about the movers. That will help you make a list of interstate moving companies you are interested in hiring, and avoid some companies that won't provide you with good services. Perhaps the most important fact is, that you will be able to avoid getting scammed. If you have these factors in mind then you will surely find good interstate movers fast. Then you can focus on what lies ahead.
Too cheap to be real? That's because it isn't
What you need to have in mind when comparing prices is that being too affordable can be sketchy sometimes. This is perhaps the most important thing you need to remember when you are comparing the prices of interstate moving companies. There is a certain limit that the moving company won't go over because then they are dealing with losses. And usually, you would be able to figure out what that minimum is.
But, if the moving company you are interested in hiring has a much lower price, then they are probably scammers. There are some hidden costs that you will have to pay once you sign that moving contract. And you probably wouldn't even know about them.
Comparing prices is necessary when moving
This is something that can help you out with your move when it comes to it. Especially when you are moving on a budget. You would want to know how much money you can spend on your relocation. And if you are planning to move somewhere with your family, like to Hoboken, you would want to know what to expect from this place and your movers as well.
Hoboken is one of those places that offers a lot of activities to families. With over 52,000 people living here, you will soon notice that he is one of the best places you can move to. A dense and urban feel of life is what most people love here and the majority of them are renting their homes. You can have a rich social life here as well. With many restaurants, bars, and parks you will surely have a lot of places to go and see. But, make sure to contact your movers in Hoboken NJ first. It is the best way to avoid any delays and moving mistakes.
What are the factors that can influence the price of the move
Now that you know what to expect overall, it is time to get into details about the moving process. Many things will define the price of the move. Especially when it comes to interstate relocation. That being said, here are the most common things that you need to include in your calculations:
The distance traveled
The number of items you are packing
Do you require some special packing services
How heavy, big, and robust are the items you are moving
Do you need some special packing supplies
Access to a parking lot, an elevator can play a crucial role
The season of the move
How many people are you hiring
Loading and unloading the moving truck. It is important to do this properly if you want to stay safe during the move.
These are some of the most important factors you need to have in mind when you are planning to make a list of interstate moving companies you wish to hire. Knowing these factors will give you the advantage you will need when picking the best movers in New Jersey for your upcoming relocation. And not only that, you will have more than enough time to enjoy this wonderful place as well.
With this information, you are now able to compare moving quotes without any delays and mistakes. Just follow these steps and you will be well on your way. We are certain that his guide will be everything you need for your upcoming move. And if you are still looking for some interesting moving facts, then you can always read our blog. We wrote a lot of articles that can help you out with your moving process. From different moving and packing tips, you name it! Furthermore, if you give us a call, you can receive your free moving estimate.